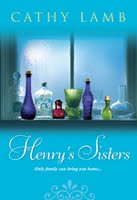 In an equally heartwarming and heartbreaking story about her mother, Cathy Lamb --- author of JULIA'S CHOCOLATES, THE LAST TIME I WAS ME and HENRY'S SISTER --- illustrates how, like the famous quote says, you gotta put up with the rain if you want the rainbow.
My mother and I loved to laugh.
Bette Jean Thornburgh Straight did not have a lot to laugh about in her own childhood, so maybe that's why she believed every day needed a dose of joy and a good laugh in it, especially during the holidays.
It was in this spirit that I gave her a tiny book, four inches tall, called WOMEN'S WIT AND WISDOM, for Christmas one year. I wrapped it up in snowman wrapping paper, slapped on a floppy red bow, and stuck it under a tree crammed full of homemade ornaments from her grandchildren and the intricate feathered birds she so loved.
WOMEN'S WIT AND WISDOM was full of quotes like this one from Katharine Hepburn, "If you obey all the rules you miss all the fun."
And from Katherine Mansfield, "If only one could tell true love from false love as one can tell mushrooms from toadstools."
Or, one of my favorites, from Lily Tomlin, "The trouble with being in the rat race is that even if you win, you're still a rat."
The book, with all the brassy, sassy and free-wheeling comments and advice from women, had me and my mother laughing and chatting. From Christmas morning on, it sparked conversations about life, men, relationships, love, and the role of women in her generation and mine. I once told my mother I particularly liked this quote by Dolly Parton, "The way I see it, if you want the rainbow, you gotta put up with the rain."
The rain poured down on my mother in the fall of 2000. We were grocery shopping with my kids after having coffee, hers black, mine a decaf mocha. A vertebra in my mother's back cracked when she picked up a bag of vegetables and yellow apples, and it was downhill from there.
My Bette Jean, who never smoked a day in her life, had metastasized lung cancer and was not curable. I will not get into all the sad, wrenching details --- those of you who have dealt with cancer already know them --- but through the radiation and chemotherapy, we kept laughing. Why not? It was what we'd done all our lives.
I didn't laugh much for awhile after she died in 2002, less than two weeks after Christmas. My laughter seemed to be stuck in my heart while the rest of me was crying, and I could not find the rainbow Dolly was talking about. My father, brought to his knees after my mother died, died in 2007 of cancer also. When my brother and sisters and I cleaned out their home and divided furniture and photos and feathered bird ornaments and eight million other emotional things, we four kids made a rule that whatever you gave our parents as gifts was yours to take back again if you wished.
I took back WOMEN'S WIT AND WISDOM. On the inside cover I wrote, "To Bette Jean Thornburgh Straight, with love from her daughter, Cathy Marie Straight Lamb." I'll give it to my daughters one Christmas, all wrapped up in reds and greens with a floppy bow and, hopefully, they'll give it to their daughters on Christmas, too. I envision the ladies of the family re-gifting it to each other, and signing it, maybe across their favorite quote, and then we'll have a generational heirloom of our own. A tiny book heirloom, so to speak, that is brought out when the stockings are hung, the grandchildren have made ornaments, the feathered birds are hanging from the branches, and there's laughter over the egg nog.
And maybe one day a great-great granddaughter of mine will cuddle up in front of the fire, watch the lights flicker on the Christmas tree, and appreciate this quote by Tallulah Bankhead, just like my mother and I did, "It's the good girls who keep the diaries; the bad girls never have the time."
-- Cathy Lamb

Be sure to check back later today as Holly Goddard Jones tells a tale of how a love of reading and a love of books are not necessarily the same thing.