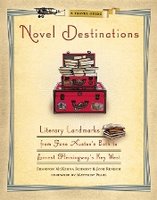 Today's guest blogger Joni Rendon, co-author of NOVEL DESTINATIONS, comes clean about her lack of skill in the kitchen, and shares how she's tackling this challenge with the help of Mark Bittman's HOW TO COOK EVERYTHING.
I'm sure my in-laws meant well when they gifted me with Mark Bittman's HOW TO COOK EVERYTHING a few years back. Coming on the heels of one too many culinary meltdowns, I suppose I shouldn't have been surprised. After all, they were the hapless victims on the receiving end of my well-meaning, but ultimately disastrous, demonstrations of kitchen prowess. There was the Shrimp Bercy that congealed into a Papier-mâché-like substance (a victim of too much corn starch), the 20-alarm seafood enchiladas (the result of that all-too-important distinction between one "canned" jalapeno and one "can of" jalapenos), and the key lime pie that never firmed up and quivered unappetizingly on our plates until my husband was brave enough to tackle the pale green mass. (Would anyone like another slice. . . errr, dollop?)
Ruining a few dinners among family was one thing, but the prospect of entertaining friends became fraught with stress. Each dinner party invitation received sent my stomach churning with fear on when we'd have to reciprocate. Who could compete with my friend Nancy's Fourth of July flag sheet cake with buttercream frosting and raspberries lovingly nestled into place to form stripes? Or my husband's boss's slow-roasted shoulder of pork with apricot honey glaze? Quickly, I learned that the best way to cook a no-fail meal was to order it in and get rid of the evidence. As guests would arrive, I'd strategically be removing the piping hot creation out of my stove, to a chorus of "oohs" and "ahhs" and "doesn't that look delicious?" But even that didn't always go smoothly (let's just say my dog Penelope --- eyebrows intact --- now knows not to linger near the stove). But over time, the guilt wore on me. I felt bad about deceiving my friends, who'd wholeheartedly pooh-pooh my "woe is me, I can't cook" angst by waxing poetic about some great meal I'd supposedly prepared.
Enter Mark Bittman, whose step-by-step instructions on everything from cookware and ingredients (evaporated milk is NOT the same thing as condensed milk, even though the can looks similar --- hmmm, this could explain the failure of that key lime pie) to explicitly worded recipes that leave nothing to the imagination. I mean, how can you resist a man who goes so far as to warn you, in the case of the pan-seared steak, that "clouds of smoke will instantly appear; do not turn down the heat"?
These days, I've progressed on to the Barefoot Contessa recipes, because she's one of the few U.S. chefs we get on the Food Network in England where I live now, and having the visual aid really helps. (Though I'm sure Ina never had to do battle with a temperamental British convection oven or perform complex mathematical equations in her head to convert measurements to the metric system.) Soon, I'll be putting months of preparation to the test by hosting my book group's annual Christmas gathering --- want to come over for dinner?
Tomorrow, Adriana Trigiani reflects on perfect presents, perfect friends, and the perfect way to celebrate the holidays with loved ones.