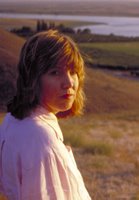 Sometimes life doesn't quite work out the way we plan. However, today's guest blogger, Carolyn Jourdan --- author of HEART IN THE RIGHT PLACE --- proves that isn't necessarily always a bad thing.
When I was 17 years old, I was given a book for Christmas that --- before I'd finished the first page --- I knew was going to change the direction of my life in a big way. I was a senior in high school, and the book was ALL CREATURES GREAT AND SMALL by James Herriot.
The intensely funny, self-deprecating comedy and radiant kindness in that book affected me so deeply I spent the next 30 years struggling to learn to write (and live) in the hope that one day, somehow, I'd be able to render the wacky misadventures of my physician-father and his patients.
What I experienced while reading ALL CREATURES GREAT AND SMALL was the healing power of laughter and community and the blessing of learning to be comfortable with who, what, and where you are.
Then, like most young people, I got caught up in chasing after "success." By most standards I achieved it. I was a high-powered, high-tech environmental lawyer for the U.S. Senate, living a life like a character out of a TV show. In fact, I was the basis of a well-known character on a famous TV show about Washington.
But then, my mother had a heart attack and my father asked me to come back home to the Smoky Mountains of East Tennessee "just for a couple of days" and cover for her on her job as the receptionist in his medical office. She'd been his jack-of-all-trades sidekick for 36 years and, because he treated so many of his patients for free, he couldn't afford to hire anyone to replace her. How could I say no?
The "couple of days" stretched into weeks, months, and then years.
Overnight I went from a glamorous life as a respected professional to an old maid daughter living in her parents' basement, trapped in a flunky job. I never did get back to Washington.
My transition was not graceful. But when I finally relaxed, I realized that although my job was a humble one (to say the least) and I had no talent for it, I was filling a space that needed to be filled. And in fact, I was living out that Herriot book I'd been given for a Christmas present and loved so long ago.
It wasn't a bad life.
By the grace of God, a deeply disrupted career path, and an unbelievable amount of effort I eventually managed to write that book I'd hoped to write one day and it came out in the hardback just in time to give to my father for Father's Day, thus completing a long circle.
Books are important. With the books we give and the books we receive, we can change each other's thinking and even change each other's lives in ways we could never imagine when we've stuffed ourselves with Christmas dinner, settled into a comfy chair, and cracked open the cover of an interesting-looking new book.
Tomorrow, Brad Meltzer describes a touching present given to him by his mother just after he published his first book.