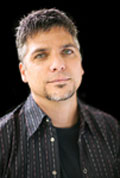 Life lessons abound in any great book, and Garth Stein --- author of THE ART OF RACING IN THE RAIN --- shares a poignant one his young son learned through the pages of a collection of sports photography.
It's been a crazy December for us. My son, who plays on a U-11 soccer team (there's some terminology that will separate the soccer folks from the non-soccer folks), was on a juggernaut with his team, the Mount Baker/Lakewood Tidal Wave. They're kind of a rag-tag bunch --- more Bad News Bears than New York Yankees --- and yet they have a huge amount of spirit. And they manifest well.
So in the City Championship double-elimination tournament, they won their first three games with guts and determination. And suddenly found themselves in a sea of big fish. They were among the elite. They were one of 6 remaining teams out of 26 that started.
And then they lost. And they lost again and were out of the tournament, on a cold, snowy Sunday in Seattle, with the dark clouds hanging low over the field.
I found myself in a strange situation. How do I explain to my son that this experience is about learning how to lose as well as how to win? But more, how do I explain that it's about learning how to deal with the elements: how to take a bad call. Yes, the young referee of our match whistled a penalty kick in a game tied at 1-1 with fewer than three minutes to play, and our guys --- smaller and less physical players who had been banged around all day --- found themselves losing because of a phantom penalty that even the other team didn't see.
Well, I said to my boy, we play them as they come. We are here because we put ourselves here, and we have to stand up to that. We haven't manifested well today; tomorrow, we will manifest better.
He was disappointed, yes. There were tears, of course, slackened only by a stop at Dick's Drive-In for a vanilla shake and some famous Dick's fries.
But there was also a renaissance.
After the game, when we had all unraveled from our Extreme Winter Wear and settled down in our cozy house, safe from the looming storm, I went up to look for my son and make sure his spirits were not damaged beyond repair. And I found him in his room, on his bed, paging through a book my sister-in-law and nephew had given him for Christmas two years ago, called: 90 MINUTES: The Greatest Moments from the World Cup.
It's a beautiful book of photographs from World Cup soccer matches. The 90 minutes of the title refers to the length of a match. There are few words --- only the captions of photographs. But it is a powerful book.
"You okay?" I asked. "You're not too bummed out about today?"
"I'm okay," he said. And he turned another page to see another fantastic photo.
Perhaps he imagined himself in that book. Perhaps he just loved the energy of it. I don't know. But there he was, seeing himself on the field with a different outcome. Knowing that a hero's journey is not without difficulty and disappointment, but ultimately is about embracing the path traveled.
I've given many books for Christmas; I've received many books. All of them have their stories and are significant. But this day --- today --- 90 MINUTES is the most important book my son has ever received. Perhaps, one day, he will give a book to someone that will be as special as this one is to him.
Happy Book-Giving Season to everyone!
Tomorrow, Carolyn Jourdan discusses how --- despite her life's ups and downs --- she came to embody the ideals represented in one of favorite books.