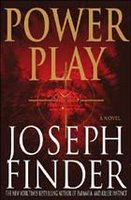 Today's guest blogger, Joseph Finder, introduces us to one of literature's greatest, but most underrated villains . . . the Grinch?
People always ask authors about their influences. Mine aren't surprising to anyone who's read my books: Frederic Forsyth, Robert Ludlum, Ian Fleming. . . Dr. Seuss.
Yes, Dr. Seuss. You remember him: the creator of one of thriller fiction's great villains.
Here's the story: in a remote mountain fortress, a twisted creature plots his vengeance against an unsuspecting population. He enlists his henchman into a nefarious plan that requires elaborate disguises and high-tech transportation; he launches his attack in the middle of the night and he even steals candy from babies.
It's a James Bond novel, right? No, it's HOW THE GRINCH STOLE CHRISTMAS, which is sadly overlooked as a classic thriller.
Talk about ordinary people thrust into extraordinary circumstances: the Whos wake up on Christmas morning to discover that all their presents and decorations are gone. Little Cindy Lou Who, in fact, met the Grinch and lived to tell the tale, in a scene reminiscent of that classic moment in FRANKENSTEIN when the monster has tea with the little girl.
And yes, the power of the Whos' Christmas spirit thwarts the Grinch, but who really wins in the end? Isn't the Grinch himself at the table, helping himself to the largest slice of roast beef? He's insinuated himself into the fabric of Whoville, and from there, who knows what havoc he might wreak . . .
Christmas. It's not just a time for joy and giving, it's a time for plotting world domination. Dr. Seuss taught me so.
Tomorrow, Sam Wyly discusses the personal significance that the of epic saga, GONE WITH THE WIND, holds for his family.