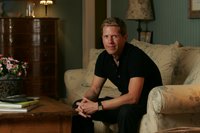 Wade Rouse, author of CONFESSIONS OF A PREP SCHOOL MOMMY HANDLER, reflects on "Christmas miracles," and what he's gained from the most important women in his life.
As a child, my holidays were often fraught with disappointment.
For instance, when I would ask my father why Santa rarely came to our house, he always told me, "Because Nixon needed a little extra help." And then all the adults sitting around the fire would laugh and say, "Ain't that the truth."
I was a chubby little boy in the Ozarks who had a soft spot for ascots and Robbie Benson. I used to take the tinsel from the tree, tie it into the back of my hair and pretend to be Susan Dey. I mean, I needed to believe in something to get me through the year. And I didn't even have Santa. Which is the reason why I figured I always got a Daisy BB gun and fishing lures instead of an Easy Bake Oven or Lite-Brite. And then one year, my mom and grandma gave me a gift in which I could believe.
They gave me the Erma Bombeck book, THE GRASS IS ALWAYS GREENER OVER THE SEPTIC TANK. I remember ripping off the bow, adhering it to the side of my head, like I always did to make myself look more cosmopolitan, and then tearing apart the red foil paper to discover Erma's name. Now, I was a young reader. I loved Nancy Drew (but of course), and I wept in the schoolyard over WHERE THE RED FERN GROWS (not a great idea in the Ozarks, btw). But I adored Erma.
I read her column, "At Wit's End," in our small-town newspaper, even clipped a few of my favorites to adorn my corkboard wall. Though I was very young, maybe 11 or 12 at the time, Erma connected deeply with me. She was a humorist and human who made the mundane memorable. She wrote about family and food, laundry and life. She wrote about everyday stuff with which I could relate.
THE GRASS IS ALWAYS GREENER OVER THE SEPTIC TANK was funny, yes, like its title, but it was also deeper: Along with daily suburban family issues, Erma tackled diet and self-image in this book. And for a fat gay boy living in rural America, I found a role model in an older, straight mother who seemed to be dealing with just as many self-esteem issues as I was.
From that Christmas on, I wrote and journaled more earnestly about my life, and I always tried to do it with humor, just like Erma. I found laughter softened the pain, made life seem so much more bearable.
And that's what I still try and do to this day, in each and every one of my memoirs: Write about everyday life from a unique perspective --- with a whopping dose of humor and cynicism --- touching upon those themes that touch us all, be it unconditional love, family, sex, relationships, jobs, self-esteem, neuroses. I still believe that the very best memoirs force us to hold a mirror up to our collective faces and take a good long hard look at what's reflected back. And that image, I still believe, always looks so much better if we somehow manage to smile.
Looking back, my mom and grandma really gave me more than a book that Christmas. They gave me an escape. They gave me hope. And, ultimately, the most important women in my life --- my mother, my grandmother and my Erma --- gave me a career.
Now, that's not just a great holiday gift, it's a downright Christmas miracle.
Tomorrow, Kristin Hannah reveals the best part about giving favorite books as holiday presents.