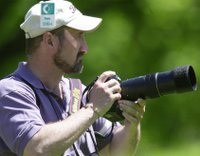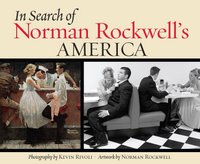 Photojournalist Kevin Rivoli --- whose latest work, IN SEARCH OF NORMAN ROCKWELL'S AMERICA, recreates the beloved painter's quaint and classic tableaux in contemporary photography --- shares with us one of the most important gifts he's ever received. . . a gift he gave himself.
I've always loved to give and get books as gifts for Christmas --- especially books about photography and photojournalism. But my favorite gift-giving experience is about a gift I gave to myself.
It was the holiday season 1987 and I was struggling. Out of college a few years but still unable to find where I fit in, I was waiting tables to make ends meet. I was watching football on television and saw photographers running up and down the sidelines capturing the action
with their cameras. I was envious. I had taken a photography course in high school and really loved it, but was discouraged by the teacher from pursuing a career in it.
"It's tough to make a living in photography," he said. "There's no money in it and there are too many photographers out there.' He instead encouraged me to go into teaching --- and that's what I did. I graduated from college with a degree in physical education. But for me, it wasn't the right fit.
I continued to watch the game --- with an eye on the sidelines. It was then I made a life-changing decision. It may not pay well, and it may be tough, but I was going to become a photojournalist. With no formal training and no money to return to school, I decided to splurge and do something I had never done before. I was going to give myself a Christmas present. I ordered myself a series of books titled The Kodak Library of Creative Photography. It was a 17-book series published by Time-Life Books in association with Kodak. The series included titles such as HOW TO CATCH THE ACTION and PHOTOGRAPHING THE DRAMA OF DAILY LIFE.
I read those books cover to cover, over and over again. And with used camera equipment in hand, I began to hone my skills. I was rejected by just about every paper in New England --- some of them twice --- for entry-level photography positions. Not many papers were looking for someone who was, well, self-taught. I pushed on and eventually a small paper decided to take a chance on me --- The Citizen in Auburn, New York.
Two years after ordering those books, I was selected and attended the prestigious Eddie Adams II Workshop. That same year I was named National Press Photographers Association's Photographer of the Year for Region 2, which includes all of New York State, Europe and Eastern Canada. That was the beginning.
Those books still sit on a bookshelf in my living room. And they will be with me for as long as I live. They are the physical representation of a story I will tell my children about, when I talk to them about pursing their passions and the importance of perseverance. I can't remember what those books cost at the time but I can tell you that for me, that gift to myself was priceless, and it was the best investment I ever made in myself. That Christmas, I gave myself a gift of pursing a dream. And more than 20 years later, I'm still living it.
Tomorrow, Charlotte Bacon introduces us to some of the book lovers who have inspired her, and muses on the connective capacities that books possess.