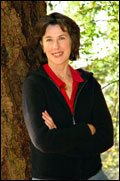 Eileen Goudge, author of DOMESTIC AFFAIRS, reminisces on her first introduction to "adult reading material," and the gift that --- decades later --- keeps on giving.
I remember the anticipation I used to feel, as a child, with Christmas approaching. I would poke and prod the presents under the tree, in the hope of their giving up their secrets (they never did). But there was one kind of present that was always easy to identify without too much guesswork --- the kind that didn't come in a box and that was roughly the size and shape of the most treasured items in my trove of treasured items --- that of a hardcover book. Other kids might delight more in receiving the latest cool toy, but for me, from the time I first learned to read, some of my favorite gifts have always been books.
When I was ten years old, Santa brought me a copy of the GOLDEN TREASURY OF POETRY (compiled by Louis Untermeyer and illustrated by Joan Walsh Anglund). It was a book that changed my life. Up until then, poetry for me had fallen squarely into the province of adult reading material --- which is to say, boring. I knew nothing of Emily Dickinson or Ralph Waldo Emerson or Longfellow. . . or even Ogden Nash. The only verses with which I was familiar were those of nursery rhymes. Suddenly, here was a wealth of stories --- yes, stories --- which only incidentally happened to be told in verse instead of prose. I became entranced by the tales of Lorelei. . . Paul Revere's Ride. . . Inchcape Rock. . . and others. I discovered the immortal words of William Blake, "To see the world in a grain of sand. . . and heaven in a wildflower," which have stayed with me all these years and become even more meaningful with the passage of time. And I can't look at a winter landscape without thinking of Robert Frost's "I took a walk on a snowy, winter day."
I still have that treasured copy, frayed and dog eared and missing its spine. I refer to it often, when I'm in need of a smile, some inspiration, or occasionally a quote for one of my novels. Through the years, I have also given various editions of it --- happily it's still in print --- to the children in my life. I hope those children have gotten from it at least some of the joy it's given me. If you have a child in your life who loves to read and for whom you're looking for that special gift that no one else will give him or her, I highly recommend it. It may not be the most exciting-looking present under the tree, but it will truly be the gift that keeps on giving.
Merry Christmas (and Happy holidays) to all, and to all a good night.
Check back tomorrow, as Wendy Corsi Staub reminisces about family holiday rituals, and the private tradition she shared with her mother.