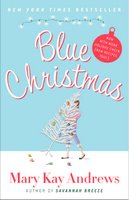 At an early age, bestselling author Mary Kay Andrews discovered one of the greatest pleasures that reading can bring --- the ability to forget your surroundings and lose yourself in a great story. Here, she recalls how this epiphany came about while unwrapping a copy THE SWISS FAMILY ROBINSON on Christmas day.
On Christmas morning, 1960 --- or was it 1961? --- I unwrapped a gift with feigned delight and surprise. The gift was an illustrated copy of SWISS FAMILY ROBINSON. I'd actually discovered the gift a few weeks before Christmas, and seeing the gift tag with my name on it, I'd given in to temptation and slyly unwrapped it. I must have been only six years old, but I was already reading before first grade --- thanks to my older sister Susie, who, growing tired of having to read aloud to me, simply taught me to read myself.
I can remember taking the book --- was it one of those large-format Golden Books editions? --- and crawling into my mother's ironing cupboard to read it in secrecy. I was immediately transported to a place of wonder: a deserted desert island, a shipwrecked family of four fun-loving sons, and their ingenious, inventive father and mother, who created an amazing home from them, built from the wreckage of their ship and whatever was at hand on the island.
I read and loved that book until it was in tatters. My sisters and brothers loved it too, and inspired by it, we built tree houses, forts, and even made one ill-fated attempt at a raft made from palm fronds. A note to would-be raft-builders: palm fronds lashed together with jump ropes will not actually produce a navigable craft.
Later that year, our parents took us to see the Disney version of SWISS FAMILY ROBINSON, a movie we would see again and again in our youth.
From SWISS FAMILY, I went on to devour other books dealing with families, and children, devising homes from cast-offs and junk. I adored The Boxcar Children, by Gertrude Chandler Warren, and was entranced with the notion that orphaned children could live alone, without grown-up supervision. Later, at our library's Bookmobile, I found the Borrowers books, by Mary Norton, which followed the adventures of a thimble-sized family who make their home under the floorboards of the "human beans" and borrow things like thimbles and buttons to furnish their home.
Today, I did a little research on my childhood favorite, and learned that SWISS FAMILY ROBINSON was written in 1812 by a Swiss pastor, Johan David Wyss, who told the story of a Swiss family shipwrecked in the East Indies, en route to Port Jackson, Australia. Wyss's book was not meant to be an adventure story, but rather an inspiration to teach his four sons virtues such as piousness, frugality, husbandry and cooperation. The Robinson name was borrowed from Daniel DeFoe's tale of ROBINSON CRUSOE. And imagine my surprise to find that the '60s television series "Lost in Space" with their own Robinson family, was a Sputnik-era adaptation of Johan Wyss's novel.
With my early fascination for homes and families, it's no surprise that the stories I write today return again and again to themes revolving around contemporary women and their search for, and yearning for, the solace of home --- and family.
To this day, unwrapping a new book on Christmas morning is still a special joy, and to this day, I long for the delicious sensation of crawling away into seclusion, to lose myself in a world of wonder.
Join us tomorrow, as Katherine Taylor hits some sore spots with her less-than-subtle choice of holiday presents to her family.