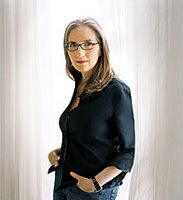 Not only do books inform and entertain, but they also have the power to mend and heal, as demonstrated by today's guest blogger, New York Times bestselling author Luanne Rice. Just as her main characters in THE LETTERS --- co-written with Joseph Monninger --- find their way back to happier times through the written word, Luanne and her sister reconnect over a childhood memory and a favorite book after having drifted apart for many years.
Holidays are supposed to be heartwarming. Families love each other. They come together, bring out their grandmother's decorations, eat traditional meals that take them straight back to childhood. The Christmas carol that always tugs my heartstrings is "Have Yourself a Merry Little Christmas," especially the line "through the years we all will be together. . ."
Except when we're not.
My parents and the grandmother who lived with us are dead. Our family house was sold. Holidays became something else --- with friends, in new places. I have two sisters, and a certain distance opened between me and one of them. I went away, she went away. Through the years we weren't so much together. And then, two Christmases ago, she gave me a book.
THE HOUSE AT POOH CORNER , by A. A. Milne.
We're grown up. She has a family of her own. I write and have cats. But this had been a favorite childhood book of hers, and in giving it to me, she brought us back together, to that time when we'd build snow forts and ski in our back yard and drink hot chocolate and decorate the tree with strands of popcorn and cranberries, and stick cloves into oranges to make pomander balls; to a time when she, our other sister, and I would try to stay awake on Christmas Eve, because my mother always told us that was the one night of the year we could hear angels singing.
The inscription she wrote is all-important, and the main reason I keep the book on my desk all through the year:
Merry Christmas! Rusty urges you to pay VERY close attention to Chapter X.
xxxxxxoooooooxxxxxxooooo
I'll explain half of what that means:
Rusty was our imaginary agent. Other kids might have imaginary friends, but even when we were little, we were of an artistic bent. I wrote, she painted, and our youngest sister both wrote and painted. Our work had to find its way into the world somehow, didn't it?
To better understand the second half of my sister's inscription, I urge you to pick up a copy of THE HOUSE AT POOH CORNER. And pay VERY close attention to Chapter X.
Tomorrow, Rita Mae Brown shares one or two of her favorite books on a subject near and dear to her heart --- fox hunting.