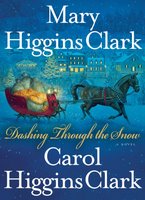 The first author guest for our Author Holiday Blog feature is international bestselling author Mary Higgins Clark, whose latest release, DASHING THROUGH THE SNOW --- the fifth holiday-themed collaboration with her daughter, Carol, featuring amateur detective Alvirah Meehan and PI Regan Reilly --- hit shelves this past Tuesday. Here, she reminisces on some of her "first loves," and shares what she's asked her family to get her for Christmas this year.
Even when I was little, when I rejoiced in the new doll that was always under the tree, and perhaps a new pillow and coverlet set for her carriage, looking back I can honestly say that my favorite gift has always been a book. After the excitement of opening presents, and cousins arriving and departing, and the festive dinner, I was so happy to curl up with a book in the big overstuffed chair in the living room.
I'd settle in that chair, my head on one arm, my feet dangling over the other. That was when I began my magic journey into other worlds and other lives. Some of my favorites rush to mind. GRIMM'S FAIRY TALES was blissfully reread over and over again, as was the collection of Hans Christian Anderson.
Early on, I fell in love with Jeannette Stratton Porter's book, A GIRL OF THE LIMBERLOST. I was there with that sixteen-year-old girl, deciding against her mother's wishes that she would go on to high school, catching butterflies to make money to pay for her education. I was with her in sympathy as she endured the snickering glances of her fellow students at her homespun dowdy clothes. Then, with a lump in my throat, I rejoiced over her understanding of her mother's mistaken hostility to her.
I then began to read Jeanette's mother's books. Gene Stratton Porter's FRECKLES is the one that stands out in my mind. Always a romantic, I loved the tale of the orphaned boy with only one arm who turns out to be the nephew of an Irish lord. Most of my books have happy endings too.
In recent years it has occurred to me that at that time, I could not have imagined that decades later, my daughter and I would also be novelists.
When I am working on a book, I get little chance for pleasure reading of my own. I have a generous and loving family, but this year I am asking them to do something different. I'll give each one of them the name of a book I've been wanting to read and let that be my present from them. Anything else they would have spent on me, I want them to send as a charitable donation in my name. There are far too many people in desperate need for help this year for me to enjoy expensive gifts. At the end of Christmas Day, I look forward to curling up in a comfortable chair with those books beside me, and turning the first page of the one on top.
Check back tomorrow as the second half of this power duo, Carol Higgins Clark, recalls the childhood Christmas gift that perhaps planted the seeds for the heroine of her own bestselling mystery series.