Virtual Vacation Reads: Books Set in Getaway Locations
Special Feature
Virtual Vacation Reads: Books Set in Getaway Locations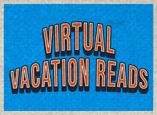 Bookreporter has a way for you to virtually travel with our list of books set in vacation locales. Escape to idyllic spots like Nantucket, Cape Cod, Malibu, the Catskills, Charleston and Palm Beach --- along with many others --- in our 2021 Virtual Vacation Reads feature. Pick your book(s) to embark on the summer vacation you've been dreaming of. You'll only have to figure out how to send postcards!
Please note: For your convenience, we have organized these books both by location and alphabetically by title. We also have included links to indie bookstores that are at or near each of these locations, so you can pay them a virtual visit as well! May we suggest that you buy these books from them?
» Click here for our 2020 Virtual Vacation Reads feature.
California