Biographies of Three Football Coaching Legends
Special Feature
Biographies of Three Football Coaching Legends
The current season marks significant anniversaries for both professional and collegiate football. The National Football League celebrates its 100th anniversary, having grown from club teams in communities such as Canton, Ohio, and Decatur, Illinois, to a billion-dollar industry that now plays regular season games in London, England. College football is recognizing its 150th anniversary as an enterprise of huge wealth and fan support. Saturdays in the fall find networks blanketing television coverage from dawn to far into the evening. Football is now America's national pastime.
Along with its rising popularity, football has become the subject of many interesting and rich biographies of the players, owners and coaches of the game. This month, two such books appear as the season gets underway. SHULA: The Coach of the NFL's Greatest Generation by Mark Ribowsky is the story of the Hall of Fame coach who led the Miami Dolphins to an 18-0 season, the NFL's only undefeated champion. CHASING THE BEAR: How Bear Bryant and Nick Saban Made Alabama the Greatest College Football Program of All Time by Lars Anderson is actually three biographies. In addition to telling the stories of Paul "Bear" Bryant and Nick Saban, the legendary leaders who brought national championships to Alabama, it offfers an in-depth look at the Alabama football program. The history of the Crimson Tide is the history of college football in the second half of the 20th century and the opening decades of the 21st. Both books are more than biographies --- they are thought-provoking chronicles of football in our nation, what it was, why it was and what it has become.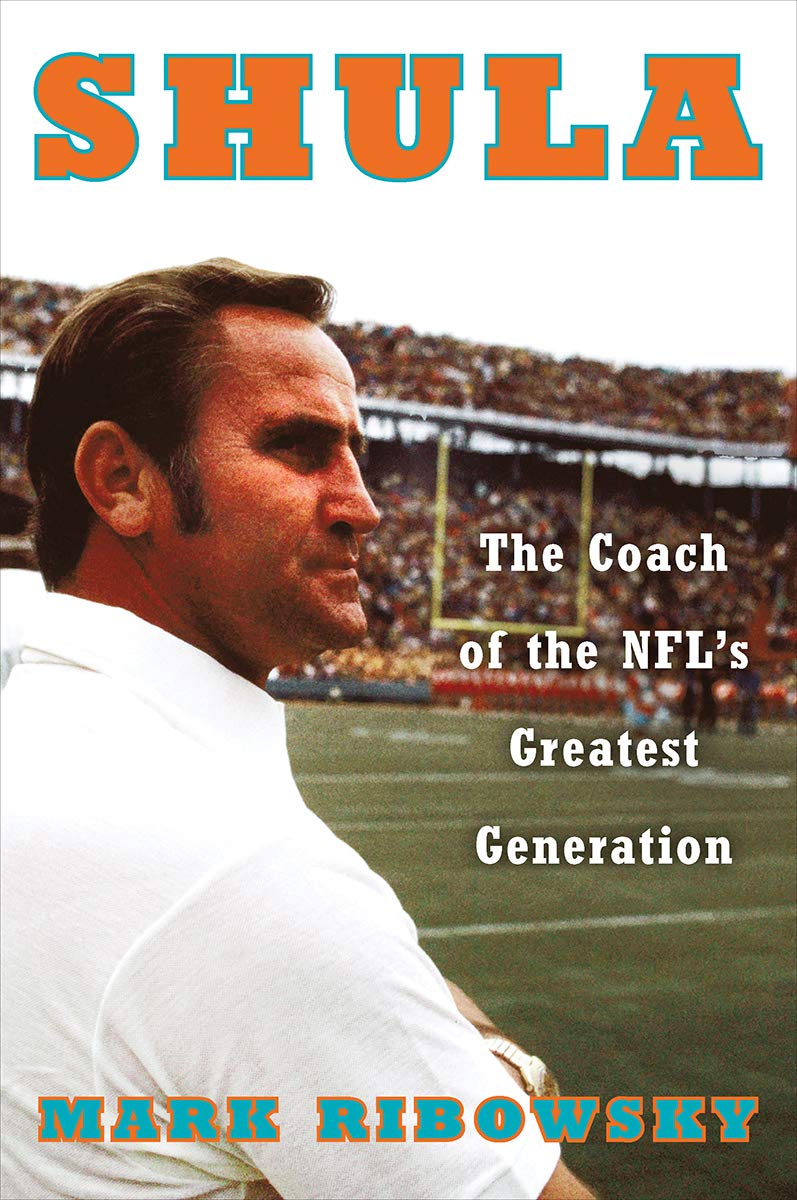 Don Shula's football career followed a path similar to many in his profession. He began playing in high school over the objection of his parents, who felt he should devote his free time to studies and work. But his football abilities did help him attend a small Ohio school, John Carroll University, where a tuition scholarship allowed him to continue his football career. Upon graduation, he met Paul Brown, who was coaching the Cleveland Browns in the fledgling All-America Football Conference, a rival to the NFL. At the conclusion of his playing days, Shula began climbing the coaching ladder, and at age 32 became the youngest head coach ever for the Baltimore Colts.
Shula's career was successful because he had learned from Brown that attention to detail and strategy were the defining characteristics that made winning coaches. A little luck also never hurt, and Shula seemed to be lacking in that category. For several years, his Colts always seemed to come up short against Vince Lombardi and the Green Bay Packers. In 1967, after finally defeating the Packers and becoming NFC champs, they met the New York Jets and Joe Namath in Super Bowl III. The historic upset by the Jets always would be a stain on Shula's career. Ribowsky gives credit to Namath, the Jets and coach Weeb Ewbank for a well-executed game plan. He also portrays how Super Bowl III was the final end of a long-simmering relationship between Shula and Hall of Fame quarterback Johnny Unitas.
One season later, his relationship with Colts ownership in tatters, Shula left the team and accepted an offer to become head coach of the Miami Dolphins. The NFL was changing. The Dolphins were a group with disparate backgrounds and lifestyles, both politically and racially. Shula had to unite them in a common goal: winning. Although he already had coached for several years, he was relatively young for an NFL coach. His ability to adapt to changing lifestyles helped ensure his success with an evolving breed of players. By 1972, Shula had molded a team that played conservative offensively and relied on a solid defense. Even the injury to starting quarterback Bob Griese was overcome with the addition of Earl Morrall, who Shula had coached at Baltimore. The Dolphins went undefeated, winning Super Bowl VII over the Washington Redskins. Shula finally had won a big game. He would continue coaching until 1995, winning more games than any NFL coach in history. Fellow coach Marv Levy wrote of Shula, "What the Babe was to baseball, Shula is to football coaching… This was a man who didn't just like coaching; he liked coaches. He never got too big for the other guys in the game."
Anderson's CHASING THE BEAR reminds readers of the many vivid contrasts between the professional football fields where Shula toiled and the collegiate arenas where Paul Bryant and Nick Saban have each won six national championships. For many years in college football, championships were awarded by writers and coaches separately voting in national polls. Some years the polls would not agree, and two different teams could claim the title. In the past decade, a traditional national championship playoff system was established, leaving one true champion. Regardless of how championships are awarded, they are rare and storied accomplishments.
In Anderson's narrative, we learn how the lives of Shula, Bryant and Saban occasionally intertwined. Joe Robbie, the Miami Dolphins owner, offered a coaching job to Bryant, who declined. Robbie then hired Shula. Saban is one of the few coaches who has been both a college and professional head coach. He coached the Dolphins for three seasons after winning a national championship at LSU. Leaving the Dolphins, he accepted the Alabama head coaching job after the 2006 season, replacing Shula's son, Mike.
In alternating chapters, Anderson parallels the Alabama careers of Bryant and Saban. Bryant made Alabama into a national powerhouse by choosing lean, fast players who fit into a system built upon those traits. He also brought a player into the system from Pennsylvania named Joe Namath, a quarterback who brought a passing game to Alabama. But Bryant's greatest contribution to Alabama and collegiate football was his decision to actively seek and recruit African-American players to the University of Alabama. In 1970, Bryant met with John McKay, the head coach at USC. They agreed that their teams would play each other the next two seasons, one game in Birmingham and one in Los Angeles.
In the spring of 1970, Bryant announced that Alabama would begin recruiting black players and told his all-white squad, "If any of you don't like it, then you can get the hell out of here." No one left. When USC came to Alabama, they trounced the Crimson Tide using talented black players, including Sam Cunningham and Clarence Davis from Birmingham. Bryant pointed out to the media (and the fans) that not recruiting black players put Alabama at a disadvantage. Sportswriter Jim Murray wrote that the score of the game was meaningless: "The real winner will be the South." Anyone watching southern football squads on Saturdays understands precisely what Bryant accomplished.
After Bryant's retirement and a drought for Alabama football, Saban was hired to resurrect it. Alabama started slowly in his first season, but eventually he returned the program to its days of glory. He has led the Tide to five national championships and is the only collegiate coach to win a title at two different schools. Anderson notes that Saban is a perpetual recruiter of athletes. He is detail-oriented and demanding of his players. He obsessively studies game film, seeking out weaknesses in his opponents. He is a driven man. But he is also capable of great empathy. Anderson recounts Saban's efforts in the days following a tornado striking Tuscaloosa in 2011. He delivered supplies to his neighbors, arranged for counseling for those impacted, and became a true community leader.
Readers of SHULA and CHASING THE BEAR will easily note the qualities that made Don Shula, Bear Bryant and Nick Saban great coaches. There is genuine affection for the game of football and the players whose lives interact with their coaches. The coach-player bond continues for decades after the players and coaches have gone their separate ways. All three men were fiercely organized and demanding, and often worked 18-hour days during their seasons. But they each also had a human side. Anyone wishing to better understand leadership, the molding of character and what it takes to succeed in life should read these exceptional books.
--- Reviewed by Stuart Shiffman