About the Book
About the Book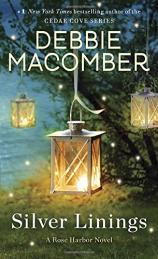 Set in Cedar Cove's charming Rose Harbor Inn, Debbie Macomber's captivating new novel follows innkeeper Jo Marie and two new guests as they seek healing and comfort, revealing that every cloud has a silver lining, even when it seems difficult to find.

Since opening the Rose Harbor Inn, Jo Marie Rose has grown close to her handyman, Mark Taylor. Jo Marie and Mark are good friends --- and are becoming something more --- yet he still won't reveal anything about his past. When Mark tells her that he's moving out of town, Jo Marie is baffled. Just when she is starting to open herself up again to love, she feels once more that she is losing the man she cares about. And as she discovers the secret behind Mark's decision to leave, she welcomes two visitors also seeking their own answers.

Best friends Kellie Crenshaw and Katie Gilroy have returned to Cedar Cove for their 10-year high school reunion, looking to face down old hurts and find a sense of closure. Kellie, known as Coco, wants to finally confront the boy who callously broke her heart. Katie, however, wishes to reconnect with her old boyfriend, James --- the man she still loves and the one who got away. As Katie hopes for a second chance, Coco discovers that people can change --- and both look to the exciting possibilities ahead.

Heartwarming and uplifting, SILVER LININGS is a beautiful novel of letting go of the past and embracing the unexpected.
Silver Linings: A Rose Harbor Novel
by Debbie Macomber
Publication Date: July 5, 2016
Genres: Fiction, Romance, Women's Fiction
Mass Market Paperback: 400 pages
Publisher: Ballantine Books
ISBN-10: 0553391828
ISBN-13: 9780553391824