About the Book
About the Book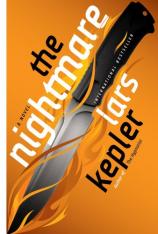 The piercing sequel to THE HYPNOTIST, Lars Kepler's bestselling international debut, THE NIGHTMARE puts Detective Inspector Joona Linna on a case that takes him face-to-face with one of the world's deadliest power brokers. When police recover the body of a young woman from an abandoned boat drifting around the Stockholm archipelago, she is identified as Penelope Fernandez, a renowned peace activist. But soon the woman's identity is called into question, and other facts are troubling: though her lungs are filled with brackish water, there are no traces of water on her clothes or her body. The next day, a high-ranking government official from a weapons division is found dead in his apartment; he has apparently hanged himself.
Escalating into a pulse-pounding rescue mission --- one that reveals a terrifying trail of corruption linking Europe's wealthiest families to vicious war crimes in Sudan --- THE NIGHTMARE weaves an intricate web of motives and manipulation. And munitions aren't the only commodity in this novel: equally significant is a collection of priceless violins once owned by Niccolò Paganini, the virtuoso rumored to have signed a pact with the Devil.
The questions and discussion topics that follow are designed to enhance your reading of Lars Kepler's THE NIGHTMARE. We hope they will enrich your experience as you explore this mesmerizing thriller.