Excerpt
Excerpt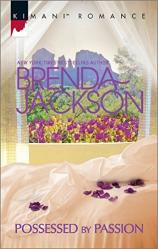 Hunter McKay came home to Phoenix for business, not to rekindle her romance with Tyson Steele. Can he convince her that they deserve a second chance?
"I understand whenever a Steele sees a woman he wants, he goes after her. It appears Tyson's targeted you, Hunter," Mo said as she leaned over. "Maybe he thinks there's unfinished business between the two of you."
It took less than a minute for Tyson to reach their table. He glanced around and smiled at everyone. "Evening, ladies." And then his gaze returned to hers and he said, "Hello, Hunter. It's been a while."
Hunter inhaled deeply, surprised that he had remembered her after all. But what really captured her attention were his features. He was still sinfully handsome, with skin the color of creamy chocolate and a mouth that was shaped too darn beautifully to belong to any man. And his voice was richer and a lot deeper than she'd remembered.
Before she could respond to what he'd said, Mo and Kat thanked him for the drinks as they stood. Hunter looked at them. "Where are you two going?" she asked.
"Kat and I thought we'd move closer to that big-screen television to catch the last part of the basketball game. I think my team is winning."
As soon as they grabbed their drinks off the table and walked away, Tyson didn't waste time claiming one of the vacated seats. Hunter glanced over and met his gaze while thinking that the only thing worse than being deserted was being deserted and left with a Steele.
She took a sip of her drink and then said, "I want to thank you for my drink, as well. That was nice of you."
"I'm a nice person."
The jury is still out on that, she thought. "I'm surprised you remember me, Tyson."
He chuckled, and the sound was so stimulating it seemed to graze her skin. "Trust me. I remember you. And do you know what I remember most of all?"
"No, what?"
He leaned over the table as if to make sure his next words were for her ears only. "The fact that we never slept together."
Copyright © 2016 by Brenda Streater Jackson