About the Book
About the Book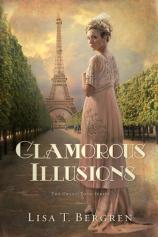 It's the summer of 1913, and Cora Kensington's life on the family farm has taken a dark turn. Not only are the crops failing, but someone dear to Cora is failing as well.
In one fateful afternoon, a stranger comes to call, and Cora discovers a terrible secret about her past…a secret that will radically change her future.
Cora is invited to take the "Grand Tour" of Europe, a journey intended to finish a person's eduction, to solidify an understanding of ancient culture and contemporary refinement. As she travels from England to France, with kin she's never known, Cora encounters the blessings of a family name, as well as the curses. But when an unbidden love begins to form, she realizes the journey is only beginning….
The first book in the Grand Tour series will take readers on a journey of cultural refinement, but moreover, explores what truly informs a person's sense of identity.
Glamorous Illusions: The Grand Tour Series, Book 1
by Lisa T. Bergren
Publication Date: June 1, 2012
Paperback: 416 pages
Publisher: David C. Cook
ISBN-10: 1434764303
ISBN-13: 9781434764300