About the Book
About the Book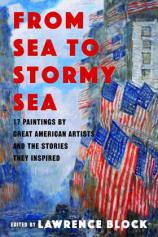 In the third installment of his acclaimed illustrated anthology series, master of crime fiction Lawrence Block has gathered together the best talent from popular fiction to produce an anthology of short stories based on masterpieces of American art.
Seventeen stories by 17 brilliant writers, inspired by 17 paintings. That was the formula for Lawrence Block's two groundbreaking anthologies, IN SUNLIGHT OR IN SHADOW and ALIVE IN SHAPE AND COLOR, and it's on glorious display here once again in FROM SEA TO STORMY SEA.
This time, the paintings are exclusively the work of American artists, and the roster includes Harvey Dunn, John Steuart Curry, Reginald Marsh, Thomas Hart Benton, Helen Frankenthaler, Winslow Homer, Rockwell Kent, Grant Wood and Andy Warhol. Among the star-studded lineup of writers, you'll find Warren Moore, Jerome Charyn, Jane Hamilton, Christa Faust, John Sandford, Sara Paretsky, Charles Ardai, Barry Malzberg and Janice Eidus.
It's an outstanding collection, with widely divergent stories united by theme and culture, and --- no surprise --- beautifully illustrated with full-color reproductions of the 17 paintings.
From Sea to Stormy Sea: 17 Paintings by Great American Artists and the Stories They Inspired
edited by Lawrence Block