Excerpt
Excerpt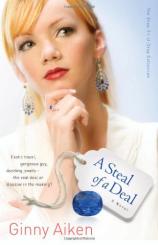 Louisville, Kentucky
I'm not feeling the love here. Of all the potential cohosts a girl can get stuck with, why did I wind up with a California surfer-boy gem-dunce? What's a California surfer-boy gemdunce, you ask? Well, he's blond, blue-eyed, and gorgeous, but he knows nothing about... well, what really matters here --- gems!
My boss, Miss Mona Latimer, who's known me since I was a tiny bulge in my mama's belly, should've known better. She should've known a co-anchoring gig would never work between a gemological dud and me in front of millions of money-waving, bling-bling crazed women wanting to know about the gemstones they buy.
The by-women, for-women, all-women Shop-Til-U-Drop television shopping channel was doing just fine without the issues testosterone poisoning brings. If Miss Mona, owner and genius extraordinaire behind the S.T.U.D. --- what most people call our shopping channel --- really felt we needed a male to spice things up, don't you think she should've gone to the GIA (that's the Gemological Institute of America) to find herself said male? We're talking a gem and jewelry show here.
Fine, fine, fine! Max did ask me to share my knowledge. And I have been trying my best to work with him, but it's slow going. You'd think Miss Mona would be at least a little concerned about the situation.
What situation? Oh, the one where Max and I have... umm... disagreements while the cameras roll. Miss Mona calls it "Chemistry!" "Electricity!" She should be horrified to have that happening on her channel. Then again, I suppose I shouldn't expect her to be logical or reasonable. She is, after all, the queen of the "Huh?" factor.
What is the "Huh?" factor, you ask? That's when someone comes up with something so out of whack that your only possible response is, well, "Huh?"
My response exactly.
All right, I admit Max does have the rare redeeming quality. Like his killer great looks don't hurt the feminine eye. And he does think the world of Miss Mona and her best friend, my own great-aunt Weeby. But then again, everyone does, so that's no big deal.
Oh. You want to know who I am? Well. I really should introduce myself. I do it every single day at the start of my show. I'm Andrea Autumn Adams, master gemologist and host of the S.T.U.D.'s gem and jewelry shows.
My uninformed cohost is Max Matthews, a former Ohio State Buckeye football player. You know, he majored in football and minored in whatever. In Max's case, the whatever was meteorology. So after a stint as a weatherman at a Middle America TV station, he's supposedly a pro at the on-camera thing. Which is how he wound up here.
And yeah, he knows nothing about gemstones.
A Steal of a Deal: Shop-Til-U-Drop, Book Two
by by Ginny Aiken
Genres: Christian
paperback: 256 pages
Publisher: Revell
ISBN-10: 0800732286
ISBN-13: 9780800732288