About the Book
About the Book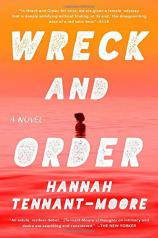 A boldly candid, raw portrait of a young woman's search for meaning and purpose in an indifferent world
Decisively aimless, self-destructive and impulsively in and out of love, Elsie is a young woman who feels stuck. She has a tumultuous relationship with an abusive boyfriend, a dead-end job at a newspaper and a sharp intelligence that's constantly at odds with her many bad decisions. When her initial attempts to improve her life go awry, Elsie decides that a dramatic change is the only solution.
An auto-didact who prefers the education of travel to college, Elsie uses an inheritance to support her as she travels to Paris and Sri Lanka, hoping to accumulate experiences, create connections and discover a new way to live. Along the way, she meets men and women who challenge and provoke her towards the change she genuinely hopes to find. But in the end, she must still come face-to-face with herself.
Whole-hearted, fiercely honest and inexorably human, WRECK AND ORDER is a stirring debut that, in mirroring one young woman's dizzying quest for answers, illuminates the important questions that drive us all.
Audiobook available, narrated by Nicol Zanzarella
Wreck and Order
by Hannah Tennant-Moore
Publication Date: November 8, 2016
Genres: Fiction
Paperback: 304 pages
Publisher: Hogarth
ISBN-10: 1101903287
ISBN-13: 9781101903285