About the Book
About the Book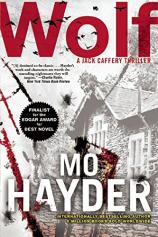 Edgar Award winner and internationally best-selling author Mo Hayder has made her name with nightmarishly dark, impeccably-plotted thrillers that hook readers from the first page and won't let them go. With her latest novel, WOLF, the frighteningly talented Hayder ratchets up the terror yet another notch, with a bone-chilling novel about a family held hostage in their country home.
Wolf kicks off when a vagrant --- the Walking Man, an enigmatic, recurring character in Hayder's fiction --- finds a dog wandering alone with a scrap of paper with the words "HELP US" attached to its collar. He's sure it's a desperate plea from someone in trouble and calls on Detective Inspector Jack Caffery to investigate. Caffery is reluctant to get involved --- until the Walking Man promises in exchange new information regarding the childhood disappearance of Caffery's brother. Caffery has no idea who or what he is searching for, but one thing he is sure of: it's a race against time.
Meanwhile, the Anchor-Ferrers, a wealthy local family, are fighting for their lives, held hostage in their remote home ten miles away. As their ordeal becomes increasingly bizarre and humiliating, the family begins to wonder: is this really a random crime?