About the Book
About the Book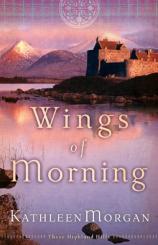 Can a forbidden love survive betrayal and suspicion in the Scottish highlands?
Orphan heiress and Scotswoman Regan MacLaren is a bride of only one day when her husband is murdered. Left alone to thwart the revenge her family seeks on her husband's assassin, Regan suffers a terrible fall and loses her memory --- and with it her place in the world. Meanwhile, laird and warrior Iain Campbell is waiting for the love he knows God will bring him. But a woman near death and without a memory isn't quite what he expected.
And so begin enormous challenges for Regan and Iain to overcome the unholy ambitions of others while love takes them by surprise. But will betrayal and suspicion force them apart forever? Or can their love help heal their clans and their land?
© Copyright 2011 by Kathleen Morgan. Reprinted with permission by Revell Books, a division of Baker Publishing Group. All rights reserved.
Wings of Morning: These Highland Hills, Book Two
by Kathleen Morgan
Publication Date: February 1, 2006
Genres: Christian, Historical Romance
Paperback: 288 pages
Publisher: Revell
ISBN-10: 0800759648
ISBN-13: 9780800759643