About the Book
About the Book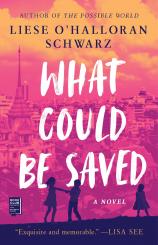 When a mysterious man claims to be her long-missing brother, a woman must confront her family's closely guarded secrets in this "delicious hybrid of mystery, drama, and elegance" (Jodi Picoult, #1 New York Times bestselling author).
Washington, DC, 2019: Laura Preston is a reclusive artist at odds with her older sister, Bea, as their elegant, formidable mother slowly slides into dementia. When a stranger contacts Laura claiming to be her brother who disappeared 40 years earlier when the family lived in Bangkok, Laura ignores Bea's warnings of a scam and flies to Thailand to see if it can be true. But meeting him in person leads to more questions than answers.
Bangkok, 1972: Genevieve and Robert Preston live in a beautiful house behind a high wall, raising their three children with the help of a cadre of servants. In these exotic surroundings, Genevieve strives to create a semblance of the life they would have had at home in the US --- ballet and riding classes for the children, impeccable dinner parties, a meticulously kept home. But in truth, Robert works for American intelligence, Genevieve finds herself drawn into a passionate affair with her husband's boss, and their serene household is vulnerable to unseen dangers in a rapidly changing world and a country they don't really understand.
Alternating between past and present as all of the secrets are revealed, WHAT COULD BE SAVED is an unforgettable novel about a family broken by loss and betrayal, and "a richly imagined page-turner that delivers twists alongside thought-provoking commentary" (Kirkus Reviews).
Audiobook available, read by Lisa Flanagan