About the Book
About the Book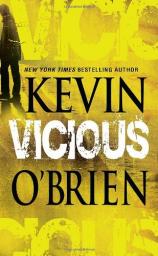 No motive…no mercy…no escape…he lives to hear them scream. Vicious is the spine-tingling new thriller from New York Times bestselling author Kevin O'Brien.
For more than two years, he held Seattle in a terror grip. A cold-blooded killer who abducted young mothers right in front of their sons and murdered them execution style. Then, as suddenly as the killings began, they seemed to stop.
Susan Blanchette is looking forward to a relaxing weekend getaway with her fiancé, Allen, and young son, Matthew. But something about the remote lake house doesn't feel right. A woman vanished from the area a year ago, and now Susan thinks she's spotted someone lurking around the property. And when Allen disappears, her fear grows…
A psychopath has returned, ready to strike again. Someone who can't resist the urge to kill, who derives pleasure from others' pain, and who is drawing nearer to Susan as each minute of the weekend ticks by. But she's just one pawn at the heart of a killer's deadly game. A killer who is unrelenting, unstoppable, and absolutely vicious…
VICIOUS © Copyright 2011 by Kevin O'Brien. Reprinted with permission by Pinnacle. All rights reserved.