About the Book
About the Book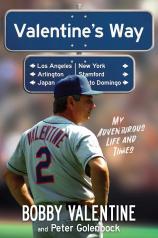 A frank and often hilarious account of the baseball life from one of the game's great iconoclasts.
From his first year in Rookie ball, when Tommy Lasorda ordered him to send a letter to the Dodgers' starting shortstop informing him that he should retire early to make way for the young phenom, to appearing in disguise in the Mets' dugout following an ejection, Bobby Valentine was a lightning rod for mischievous controversy, grabbing headlines wherever he went. Mavericks are seldom welcomed to upset the status quo, and Major League Baseball was no exception.
In astonishing detail, Bobby Valentine reflects on the many remarkable moments that comprised his playing and managerial careers. From his wild times as a player in the early '70s, to his transition to coaching with the Mets after a catastrophic injury derailed his playing days; from managing the Texas Rangers in 1985, where he employed sabermetrics and witnessed the beginning of the steroid era, to his iconic stretch at Shea Stadium, when he led the Mets to the 2000 World Series while battling a dysfunctional front office and ownership; from his beloved time in Japan managing the Chiba Lotte Marines, who won the Japan Series, to the absolute disaster of a season in Boston, where he was greeted by a toxic clubhouse and fractured organization.
Readers will be intrigued by his off-the-field exploits as well, from his early years as an international ballroom dancing champion to his post-playing days where he may have invented the wrap sandwich and the modern sports bar. Valentine has consistently overcome adversity and reinvented himself, regardless of the playing field. Along the way, he shares stories and insights on memorable moments and iconic personalities, including Nolan Ryan, Ichiro Suzuki, Gary Carter, Mike Piazza, Tom Seaver, Joe Torre, George Steinbrenner, Dustin Pedroia and David Ortiz.
VALENTINE'S WAY is a riveting look back on 40 years of baseball, written with a novelist's mind and a journalist's memory, and in collaboration with legendary baseball author Peter Golenbock. A once-in-a-generation book that leaves no great story untold, this is an invaluable document for anyone wondering what it's really like to play and work in the rarified world of Major League Baseball.