About the Book
About the Book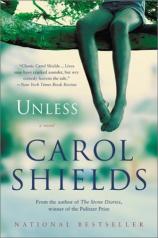 I'm not interested, the way some people are, in being sad. I've had a look, and there's nothing down that road. Well now! What about the ripping sound behind my eyes, the starchy tearing of fabric, end to end; what about the need I have to curl up my knees when I sleep?
For all of her life, 44 year old Reta Winters has enjoyed the useful monotony of happiness: a loving family, good friends, growing success as a writer of light 'summertime' fiction. But this placid existence is cracked wide open when her beloved eldest daughter, Norah, drops out to sit on a gritty street corner, silent but for the sign around her neck that reads 'GOODNESS.' Reta's search for what drove her daughter to such a desperate statement turns into an unflinching and surprisingly funny meditation on where we find meaning and hope.
Warmth, passion and wisdom come together in Shields' remarkably supple prose. Unless, a harrowing but ultimately consoling story of one family's anguish and healing, proves her mastery of extraordinary fictions about ordinary life.
Unless
by Carol Shields
Publication Date: May 1, 2003
Genres: Fiction
Paperback: 336 pages
Publisher: Harper Perennial
ISBN-10: 0007154615
ISBN-13: 9780007154616