About the Book
About the Book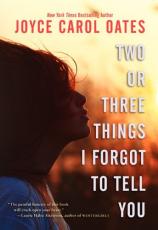 The girls of Tink, Inc., are: Merissa, Nadia, and, until last summer, Tink.
Senior year, their last year together, Merissa and Nadia need Tink more than they ever did before. They each have secrets they could share with no one but her, secrets that have become toxic and that threaten to unravel their friendship --- and themselves. Tink had a secret, too, a big one, but no one knows what it was. And now she's gone.
Then the girls hear Tink whispering to them. Sometimes, the girls feel Tink trying to tell them something...
Joyce Carol Oates returns with TWO OR THREE THINGS I FORGOT TO TELL YOU, an enthralling new novel for teens that masterfully captures the raw emotions and accessible immediacy of WINTERGIRLS and THIRTEEN REASONS WHY --- with an unexpected twist.
Two or Three Things I Forgot to Tell You
by Joyce Carol Oates
Publication Date: August 21, 2012
Genres: Fiction, Young Adult 14+
Hardcover: 288 pages
Publisher: HarperTeen
ISBN-10: 0062110470
ISBN-13: 9780062110473