About the Book
About the Book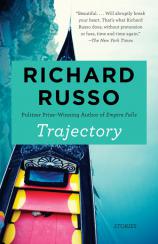 The characters in these four expansive stories are a departure from the blue-collar denizens that populate so many of Richard Russo's novels, and all are bound together by parallel moments of reckoning with their pasts.
In "Horseman," a young professor confronts an undergraduate plagiarist --- as well as her own regrets. In "Intervention," a realtor facing a serious medical prognosis finds himself in his late father's shadow. "Voice" gives us a semiretired academic who is conned by his estranged brother into joining a group tour of the Venice Biennale. And "Milton and Marcus" takes us into a lapsed novelist's attempt to rekindle his screenwriting career --- a career that depends wholly on two Hollywood icons (one living, one dead).
Shot through with Russo's inimitable humor, wisdom and surprise, TRAJECTORY is the work of a masterful writer continuing to discover new heights.
Audiobook available; read by Amanda Carlin,‎ Arthur Morey,‎ Fred Sanders and Mark Bramhall
Trajectory: Stories
by Richard Russo
Publication Date: April 3, 2018
Genres: Fiction, Short Stories
Paperback: 256 pages
Publisher: Vintage
ISBN-10: 1101971983
ISBN-13: 9781101971987