About the Book
About the Book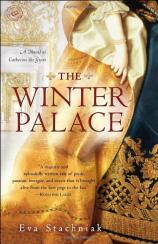 Catherine the Great is one of history's most fascinating rulers --- a monarch whose 34-year reign brought Russia into the modern industrial world, whose affairs were the scandal of her court, and who truly embodied the ideals of the Enlightenment. Drawing on letters, diaries, and on-the-ground research in St. Petersburg, Peterhof and Tsarskoye Selo, award-winning author Eva Stachniak delivers a passionate novel that illuminates the early life of one of history's most enigmatic and powerful women. THE WINTER PALACE tells the epic story of Catherine's improbable rise to power, as seen through the ever-watchful eyes of an all-but-invisible servant close to the throne.
That servant is, like Stachniak herself, Polish --- a woman who straddles the crossroads of Eastern European immigrant culture, and for whom the world of the Winter Palace is simultaneously alien and familiar. Her name is Barbara --- in Russian, Varvara. Orphaned early in life, nimble-witted and attentive, she makes her way into the employ of the Empress Elizabeth amid the glitter and cruelty of the world's most eminent court. Under the tutelage of Chancellor and spymaster Count Bestuzhev, Varvara is educated in skills from lock-picking to lovemaking, learning above all else to listen --- and to wait for opportunity. That opportunity arrives in the form of a slender young princess from Zerbst named Sophie, a playful teenager who will become the indomitable Catherine the Great. Sophie's destiny at court is to marry the Empress's nephew, but she has loftier, more dangerous ambitions, and she proves to be more adept at court politics than she first appears.
What Sophie needs is an insider at court, a loyal pair of eyes and ears who knows the traps, the conspiracies and the treacheries that swirl around her. Varvara becomes Sophie's confidante, and together the two young women rise to the pinnacle of absolute power --- surviving ill-suited marriages, illicit seductions, and, at last, the shocking coup to assume the throne of all of Russia --- but at a tremendous cost, emotionally, physically and psychologically.
THE WINTER PALACE is the first of two books on Catherine the Great. The second --- THE EMPIRE OF NIGHT --- will tell the story of Catherine's life from her own point of view.
The Winter Palace: A Novel of Catherine the Great
by Eva Stachniak
Publication Date: October 23, 2012
Genres: Fiction, Historical Fiction
Paperback: 480 pages
Publisher: Bantam
ISBN-10: 0553386891
ISBN-13: 9780553386899