About the Book
About the Book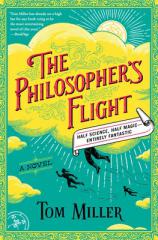 The first book in a new series and a thrilling debut from ER doctor turned novelist Tom Miller, THE PHILOSOPHER'S FLIGHT is an epic historical fantasy set in a World-War-I-era America that "[begins] with rollicking fierceness that grabs readers from its opening lines and doesn't loosen its grip or lessen its hold all the way through. Miller's writing is intoxicating" (Associated Press).
HE'S ALWAYS WANTED TO FLY LIKE A GIRL.
Eighteen-year-old Robert Weekes is one of the few men who practice empirical philosophy --- an arcane, female-dominated branch of science used to summon the wind, heal the injured and even fly. He's always dreamed of being the first man to join the US Sigilry Corps' Rescue and Evacuation Department, an elite team of flying medics, but everyone knows that's impossible: men can barely get off the ground. When a shocking tragedy puts Robert's philosophical abilities to the test, he rises to the occasion and wins a scholarship to study philosophy at Radcliffe College --- an all-women's school. At Radcliffe, Robert hones his flying skills and strives to win the respect of his classmates, a host of formidable and unruly women. Robert falls hard for Danielle Hardin, a disillusioned young hero of the Great War turned political radical. But Danielle's activism and Robert's recklessness attract the attention of the same fanatical anti-philosophical group that Robert's mother fought against decades before.
With their lives in mounting danger, Robert and Danielle band together with a team of unlikely heroes to fight for Robert's place among the next generation of empirical philosophers --- and for philosophy's very survival against the men who would destroy it.
"Part thriller, part romance, part coming-of-age fantasy, THE PHILOSOPHER'S FLIGHT…is as fun a read as you'll come across… Miller has already set a high bar for any book vying to be the most entertaining novel of [the year]" (BookPage). Tom Miller writes with unrivaled imagination, ambition, and humor. THE PHILOSOPHER'S FLIGHT is both a fantastical reimagining of American history and a beautifully composed coming-of-age tale for anyone who has ever felt like an outsider.
Audiobook available, read by Gibson Frazier