Excerpt
Excerpt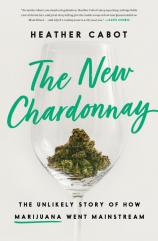 1
The Queen of Cannabis
Monmouth County, New Jersey
December 2018
Beth Stavola wasn't wearing a stitch of clothing. Clad in just her sparkly diamond studs and sleek black Bluetooth headset, she stretched out unselfconsciously on a cushioned massage table. As the afternoon sun streamed into her bay windowed boudoir overlooking the icy Navesink River, a few bucolic miles north of the Jersey Shore, Beth's "body fixer," Kathleen, discreetly released tension from her back.
While the therapist's hands expertly kneaded her client's aching muscles, the platinum blond business mogul propped herself up on both elbows. In her left hand she clutched two iPhones, leaving a free hand with which to occasionally slip her chunky black reading glasses onto the end of her nose as she quickly scrolled through text messages and returned an urgent call to a partner in Las Vegas. Time is money for any high-powered executive, but for one of America's most preeminent pot dealers, time moved at warp speed.
On this brutally cold winter day, two weeks before Christmas 2018, the multimillionaire named by High Times as one of the most influential "Women of Weed" was preoccupied with a big story playing out two thousand miles away. Beth and her tight-knit Jersey-based circle of analysts and marketers had just received an email telling them they had scored highly coveted licenses to open up four new retail marijuana shops in and around Las Vegas. This was a win that would expand her empire even deeper into Sin City, where anyone over twenty-one could now buy pot just by flashing an ID. With forty-two million fun-seeking tourists descending upon the desert city every year, this opportunity had Beth and her partners seeing green.
Beth's holdings in Nevada already included GreenMart, a high-tech facility in North Las Vegas the size of an airplane hangar, where a team of self-taught organic chemists in sterile jumpsuits, white lab coats, and surgical masks employed a proprietary method to carefully strip potent compounds from the genetically engineered crop of marijuana plants grown and hand-trimmed on-site. Using highly combustible gases and shiny pressurized gadgets worth hundreds of thousands of dollars, the technicians worked around the clock to delicately extract the molecules containing marijuana's chemicals in their purest form, and refined them into valuable oil. Those beakers of viscous amber liquid that lined the lab would ultimately fill cartridges for vaping or oral gelcaps; or, in the gentle hands of a professional pastry chef, the concentrates would be mixed into an array of gaming-themed edibles like dark, milk, and white chocolates molded into the shape of dice.
The news about the licenses hadn't yet leaked to the press. Nevada wouldn't disclose the names of the winners until the following week, when those who had lost out on the opportunity to get in the cannabis market were sure to be miffed. In the old days, encroaching on a rival's turf was an act of war that might end with a barrage of gunshots, a body tossed in a ditch in the dark of night, or some other gruesome consequence. But in the new landscape of lawful marijuana, an army of corporate attorneys on speed dial had supplanted the gang of sicarios available 24/7 to do the crime boss's bidding. And from what Beth and longtime lieutenant Tenisha Victor understood from their intel coming out of Vegas that afternoon, everyone seemed to be lawyering up.
"This is how things go. Every single state is a lawsuit. The losers just sue," explained Beth matter-of-factly when she hung up, her bare body draped by a sheet as Kathleen's hands continued to work their magic. Her legal fight ahead in Nevada typified the intensifying land grab happening across the country, as new states and cities opened up legal sales of the drug. Even as marijuana remained not only prohibited by the federal government, but actually classified at the top of the Drug Enforcement Administration's outlawed controlled substance list—along with heroin and cocaine—by the end of 2018, thirty-three states plus the District of Columbia had voted to legalize some sale of the cannabis plant. And ten of those states permitted marijuana sales for recreational use among adults over twenty-one, just like alcohol.
It was a whole new world. Marijuana businesses were now run by white-collar professionals who recruited new hires on LinkedIn, collected sophisticated customer acquisition data, and ran focus groups like any other consumer product company hawking toothpaste or energy drinks. More than thirty years after Nancy Reagan's "Just Say No" crusade demonized marijuana, and the zealous enforcement of tough drug laws jailed hundreds of thousands of low-income black and brown offenders, high-end pot was now being sold out in the open like a fine aged Scotch or a fancy anti-wrinkle serum—not on street corners or in dark alleys, but inside gleaming new storefronts called "dispensaries" and staffed by smiling sales associates with name tags.
Instead of clandestine handoffs in ziplock dime bags, newfangled legal cannabis products—both intoxicating and not—were proudly stocked under bright department store lighting with polished hardwood floors and eye-catching displays, or featured on inviting websites ready for delivery or pickup in every variety a cannabis connoisseur could dream up: Listerine-style breath strips, dark-chocolate-covered blueberries, gourmet fruit gelées, fizzy bath bombs, lemony tinctures, erotic oils, potent waxes, stick-on skin patches, carbonated beer-like beverages, sparkling wines, herbal teas, and even suppositories. There were hundreds of choices to consider. All of the pricey products were artfully wrapped in shiny cellophane, pretty glass jars, sleek pouches and boxes, and featured an extensive lab-tested ingredient list, dosing advice, and sturdy childproof packaging. It was an extreme makeover. Weed was now marketed to an expanding audience of canna-curious customers, ranging from graying grandmas to weekend warriors to Chardonnay moms.
The American public had turned a corner and was increasingly embracing marijuana as an upstanding alternative to prescription pills, used to manage everything from chronic pain to chemotherapy side effects to seizure disorders in children to Parkinson's tremors to post-traumatic stress disorder. According to Gallup, 66 percent of Americans favored legalization, including more than half of Republicans polled. "The devil's lettuce" was quickly being rebranded as a magical elixir to bring about wellness to a wide cross section of consumers. Increasingly, the "high" was beside the point as savvy marketers seized on cannabidiol, also known as CBD, a compound that doesn't induce a buzz but was promoted as a treatment for stress, insomnia, and pain.
This was an era that someone like the drug lord El Chapo could probably never have imagined. Who ever would have predicted that the man the DEA called the "godfather of the drug world"—who once carried a monogrammed diamond-encrusted pistol, rode in an armored car, and whose death squad had taken hundreds of innocent lives—would someday be competing for market share with the likes of former Wall Street executive and mother of six Beth Stavola? And yet, when legalized marijuana quickly began to cut into the cartel's profits by 2014, he and his Sinaloa cartel were reportedly forced to shift the game away from pot to trafficking in even more heroin and methamphetamine, in an effort to maximize gains off America's deadly addiction to opioids.
Now, just a forty-minute high-speed ferry ride away from Beth's home office, the $14 billion don brooded in a high-security jail cell. Joaquín "El Chapo" Guzmán Loera was a prisoner awaiting trial in Manhattan's Metropolitan Correctional Center. The notorious kingpin, who had escaped maximum security prisons in Mexico not once but twice, using an elaborate network of underground tunnels—the same method he used to smuggle billions of dollars of illegal drugs over the border—was finally taken down when the DEA recruited his head of IT to secretly install spyware on his mistress's BlackBerry. If El Chapo typified the bloody ruthlessness of the sinister drug underworld, Beth Stavola personified the professionalism of the modern-day marijuana honcho operating strictly by the book and, increasingly, in the public eye.
Beth is the first to admit that she knew nothing about weed when she and her husband first decided to invest a million dollars in Arizona's fledgling medical marijuana market in late 2012. Back then, most of the big players in this newly legitimate market saw her as just some rich lady from back East with too much time and cash on her hands. The naysayers had no idea whom they were dealing with.
The New Chardonnay: The Unlikely Story of How Marijuana Went Mainstream
by by Heather Cabot