Excerpt
Excerpt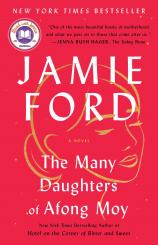 Chapter 1: Faye (1942)
Faye Moy signed a contract stating that she would never marry. That's what the American Volunteer Group had required of all female recruits. Though as she sat in the bar of the Kunming Tennis Club, Faye thought that perhaps there should have been an exception made for older nurses. Not that she had any immediate prospects among the thirty young officers who made up the Flying Tigers. It was just that a notarized statement of marital exclusion seemed to hammer home the fact that she'd never been in love. She'd come close once, back in her village near Canton, amid the wilted lilies of her youth. Since then she'd felt many things for many people, but always more yearning than devotion, more appreciation than passion. There had even been an awkwardly arranged marriage proposal a lifetime ago, at the Tou Tou Koi restaurant, where a dashing young man got down on one knee, with a ring, and too much pomade in his hair.
Wasted. That's what her father said when she turned him down. "Fei-jin? Why do you have to be this way? No one likes a stubborn girl."
She'd tried not to roll her eyes. "Why can't you call me Faye like everyone else?"
"Because I'm not everyone else. Look at you. You're not getting any younger. You should be happy someone still wants you at your age."
She'd been twenty-seven.
But as much as Faye had wanted to share her life with someone, to watch a sunset in the arms of somebody who wouldn't leave before sunrise, even then she knew that want was not the same as need. She'd refused to settle for convenience, or to abet her aching loneliness. She went to Lingnan University instead. She told herself that if she stopped looking, eventually the right person would come along.
That was decades ago.
Now she felt like the jigsaw puzzle of her life had long been completed, the picture looked whole, but there was one piece missing.
That's my heart, Faye thought, something extra, unnecessary.
Now well into her fifties, Faye still couldn't forget how in nursing school, Chinese mothers used to point at her as she walked down the street in the evening. They'd turn to their daughters and say, "Don't be disobedient or you'll end up like her," or "That's what happens when you're too proud—too foolish. No one wants you." Faye would pretend she didn't hear. Then she'd run home and curl up in bed, crying herself to sleep. In the morning, she'd light a Chesterfield and stare at the tobacco-stained ceiling, aching inside, as tendrils of smoke drifted upward like unanswered prayers.
To her parents and those mothers on the street, Faye was mei fan neoi zi. Though she didn't feel like an old maid. Even after she arrived in Kunming, where she was twice the age of the American nurses who followed. On the bustling streets of Kunming, Faye was treated differently. Perhaps because she'd served longer and now hardly noticed the suffocating humidity of typhoon season. Or because she didn't scream when field rats crawled their way into her dresser and chewed the buttons off her clothing. Conceivably it was because she was fluent in English thanks to Lai King, her American-born mother, and could quote poetry by Li Bai as well as Gertrude Stein and Oscar Wilde, yet also spend an entire afternoon playing canasta and whist while drinking tiger balms and not let the rum cocktails make her sick for days. Faye learned early on to avoid not only the whiskey the natives made, but especially the gin concocted by Jesuit missionaries.
"You want another?" Faye shook her glass tumbler.
Lois, the latest nursing recruit, a comely blonde from Topeka, looked back, bleary eyed. "Am I supposed to say yes? What is this, some kind of initiation?"
Faye noticed that Lois was slurring her words, so she peered over the recruit's shoulder and made eye contact with the bartender. Faye shook her head, almost imperceptibly so Lois wouldn't catch on, then nodded as the barkeep put his bottle away.
"I don't know why everyone around here drinks so much," Lois said, waving broadly at everyone in the club. "And why do they have to play such sad music?"
Faye listened to the jukebox as Frank Sinatra sang "I'll Never Smile Again." She thought about the flashes of light on the horizon each night, the peals of thunder. Followed by the rumble of pony carts on cobbled streets in the morning and the wailing of widows as refugees flooded through the city's arched gates.
"It comes with the territory," Faye said as she worried about her parents, whom she hadn't heard from in two years.
She finished her drink, leaving only a mint leaf.
The mountains will protect us, Faye had been told when she first arrived, even after Shanghai, Nanking, and Hankow fell. Then word spread that the defenses around Chunking had collapsed and the wind began carrying the malodorous smell she'd learned to recognize as the fetor of burning bodies. Japanese bombers killed thousands of civilians in last week's raids, along with six American pilots. President Roosevelt, who had sent planes and men, publicly denied US involvement in the war between China and Japan. But after Pearl Harbor there was no need for the pretense, and now everyone in Kunming knew who the Americans were.
"I can't believe they made all the nurses swear we'd never marry," Lois said as an aviator walked by with eyes like Gary Cooper and a smile like Jin Yan.
Faye shook her head, grumbling, "They should have made the men swear an oath as well." Faye felt invisible compared to Lois, who was so young and fetching and her periwinkle blouse so tight its buttons seemed ready to burst.
"Why would you want that? It would lessen our chances," Lois said. "But I guess at your age you could probably care less that the AVG is run like a seventh-grade church dance—after all, you must be close to retirement."
Faye cringed inside. She wished she'd cut Lois off two drinks ago.
"But for the rest of us girls, we're still in the game," Lois yammered. "You're so lucky. I always wondered what it would be like to live alone. To be able to choose how to spend my evenings and my days."
"I thought you had a boyfriend back home in… Kansas?" Faye asked.
Lois shrugged. "What if I do?"
Faye tilted her head and raised an eyebrow.
"Oh, please, don't Mother Hen me," Lois laughed. "We could all die over here at any moment. From bombs or malaria or sheer boredom."
Faye understood that all too well. Orders arrived like the tropical rains along the Burma Road—all at once, or not at all. When the downpour of wounded came, the nurses gave up wearing white shoes because they were standing in so much blood. Those long days were followed by an idle stew of melancholy, lassitude, and homesickness.
Lois kept talking. "If I'd wanted to settle down I wouldn't have traveled halfway around the world to take this job. It's not paradise, but it's more exciting than watching the tumbleweed races back home. Besides, you only get one life, you know?"
Faye remembered feeling just as eager, years ago. Restless and weary of her parents' disappointment, she left her hospital job and sailed from Canton to Rangoon aboard the Jagersfontein, an ocean liner with a swimming pool and an orchestra. That's where she met and was hired by Dr. Gentry, a US army flight surgeon who was traveling with a group of pilots and aircraft mechanics. All of them with fake IDs in case they were stopped by the Japanese. Faye had been excited, but also nervous to join the Americans, especially when she heard the Japanese had issued an order to kill all Chinese doctors and nurses caught fleeing the occupied cities. Once she stepped off the ship, however, she felt at ease, as though the broken compass of her heart was now working. She traveled with Dr. Gentry's team on the Burma Road over the Himalayas to Yunnan Province. There her magnetic north led her on muddy roads, past water buffalo and roadside statues of the Buddha, toward something unknown, but oddly hopeful. Here in Kunming she almost felt complete, even as the world around her was on fire, falling to pieces.
"I thought you were gonna buy me another drink?" Lois said.
Faye cocked her head, eyes toward the ceiling.
"Fine," Lois said. "I'll go get one myself. Or maybe one of these handsome young fellas will come to my rescue…"
"Wait." Faye grabbed Lois's arm. "Do you hear that?"
"I don't hear a thing."
Faye watched as the bartender quickly unplugged the jukebox, which elicited a round of groans and complaints from drunken patrons. Their protests diminished, however, as one by one they heard the sound of a distant air raid siren.
"Oh God, not again." Lois knelt down, nearly tipping the table over in the process.
As pilots and crewmen began running for the door, Faye listened for the sound of explosions. Or the heavy thud of passive bombs filled with yellow wax and maggots designed to spread cholera. Instead, she heard the wail change into a long blaring tone.
"Let's go! Let's go!" Faye urged Lois, pulling her up and toward the exit. "That's the all clear. It means we're safe, but a plane is inbound."
Outside the club and into the street, villagers and merchants, beggars and monks all searched the late afternoon sky. Faye looked as well, hearing the all-too-familiar roar and sputter of a damaged P-40 engine—one of theirs. Then a shark-nosed fighter-plane sailed overhead, leaving a contrail of black oil smoke in its wake. The underbelly was painted sky blue with white stars, the colors of Nationalist China, but Faye knew the man trying to land the burning plane would be an American.
She sprinted in the direction of the new airstrip, a large clearing of land that used to be a sugarcane field, which sat beneath a slope of rolling hills covered in acacia trees. Lois stumbled behind, pausing and muttering as she removed her high heels.
As Faye ran she didn't feel her age or the alcohol, she felt needed.
When she arrived at the edge of the airstrip, out of breath, the smoking plane had swung around, dropped its landing gear, and was rapidly descending on an open runway.
Lois caught up and swayed next to her as a crowd of mechanics and pilots gathered, some praying, some cursing. Faye had seen this before, damaged planes making emergency landings anywhere they could, clipping treetops or crashing into nearby hangars. The last airman to attempt an emergency landing at Kunming died for his efforts, his body burned beyond recognition.
Faye took Lois's hand as the pilot shut off the engine on descent.
"It's going to be okay," Faye told Lois. Her words felt like a wish as the nose of the aircraft pitched upward to slow its silent approach. She watched the smoking plane glide above the ground for a breathless moment before its landing gear kissed the surface of the runway. The men around her erupted into cheers.
The plane was still smoking and the front of the fuselage was black with soot, the cockpit a web of broken glass. There were so many bullet holes, Faye wondered how the pilot had managed to survive, let alone land. When he threw back the canopy she saw his face, covered in blood. The young pilot climbed out, his flight suit slick with oil, and his wet boots squished on the runway as he limped toward them. Faye felt the crowd surge forward. She became a rock in a stream of people flowing past her, everyone laughing, cheering, until the cockpit burst into flames. The plane exploded, sending a billowing cloud of debris into the air that made a tinkling sound as hot metal rained down around them. The wounded pilot looked at her, dazed, as .30- and .50-caliber rounds from the plane's mounted guns began cooking off in the flames, shooting in all directions. The crowd dispersed in a frenzy, shouting, ducking, running. Faye heard the chirping sound of bullets piercing the air. She froze as the young man waved at her amid the mayhem, staggering in her direction. Faye could see his bloody, oil-soaked flight suit, the flammable grime that blackened his hands. She could smell the petroleum as he approached and could feel the heat of the burning wreckage. She watched in horror as the pilot tucked a crumpled cigarette into the corner of his mouth and fished out a Zippo lighter. Faye dashed toward the wounded stranger as Lois called her name, as men screamed, "Get down!"
She heard the pilot striking his lighter again and again and again, until a curl of fire flickered on the breeze, a wagging finger, orange and blue. Faye snatched his wrist and blew out the flame as the cigarette dangled from the pilot's mouth. His face lit up with a quivering smile as their eyes met. He looked like he was trying to fight through the pain, unsteady, his mouth moving as though he were about to speak.
Then he collapsed in her arms.
Faye felt the weight of his body, the warmth of his blood, the stickiness of oil on her skin as she held on tight, yelling for a stretcher.
For a nurse, Faye surprisingly hated the smell of ether. But Lois, who was still learning, seemed to relish the sickly sweet aroma. Faye caught a glimpse of the recruit's eyes and knew she was grinning from ear to ear beneath her surgical mask. Faye tried to remember if she was ever that enthusiastic during her own training. If she had been, seeing the cost of war, paid in the currency of young bodies, had tempered her zeal.
"That was quite a thing you did out there, Miss Moy," Dr. Gentry said, without looking up from the pilot's abdomen that had been cut open. Lois gently pulled back folds of muscle and soft tissue with a retractor while Faye handed the doctor a pair of forceps. "I heard all about it. You saved this man's life."
Faye always felt uncomfortable whenever someone called her miss, though it was only slightly less awkward than being called Mrs. Moy, leaving her to explain that she was unmarried. She watched as Dr. Gentry used the forceps to retrieve another bullet fragment from the man's gut. The doctor dropped it into a tin pan, pinging as it joined a growing collection of jagged metal.
"It was nothing," Faye said with a shrug. "You're the one saving his life, Doctor."
"She's being overly modest," Lois said. "There were bullets flying everywhere. You should have seen it, doc. We're all running and screaming, diving for cover. And here he comes, walking straight toward her, and she meets him halfway."
"I had my uniform on. He was in shock and saw a nurse."
"Okay, so he was limping like a dead man on his feet," Lois said. "But you—you just went right out there, calm as can be. What were you thinking?"
Faye paused. She remembered the blood that ran down the pilot's face. How he felt in her arms. That she didn't feel panicked or scared. "I wasn't thinking."
She handed the doctor a scalpel.
"Well, everyone's been talking," Dr. Gentry said as he kept working, searching for more fragments. "You saved this young man, giving me a chance to try to undo all the trouble he got himself into. Now he just has to make it through post-op. Either way, after what you did out there, I think it's only right that I recommend you for the Distinguished Service Medal. It's the best I can do for a civilian contractor. You deserve it. You did what needed to be done when everyone else ran. Just don't go rushing toward the bullets anymore. I need you here, on your feet, not on my table."
Faye nodded. She looked down at the pilot and realized she was holding his hand, which felt cold. The doctor had given him curare.
Faye wondered why the pilot landed here in Kunming. Someone figured out the call sign on what was left of his plane and looked him up. His name was John Garland and he'd flown out of Toungee, six hundred miles away. His squadron had completed a pursuit mission, but he'd been shot up badly. There were other airstrips readily available to make an emergency landing, but he found his way to Kunming. Maybe he couldn't find those other places. Or maybe he was delirious from the pain. Whatever the reason, he was here. Even though he was unconscious, Faye couldn't help but brush aside a spit curl of hair from his brow with a surgical sponge.
Then Dr. Gentry dropped his forceps and scalpel in a pan with a clang and began wiping off his soaked gloves. "Let's close him up."
The sun was down and Faye sat in an airplane hangar that once a week was converted into a theater outfitted with charcoal heaters and a projector. There, members of the AVG gathered to watch one of three movies. Tonight's feature was The Ghost Breakers. With only three movies to choose from, everyone had seen it at least a dozen times. Some of the men had even memorized the words and would stand up front, pantomiming everything happening on-screen. Bob Hope and Paulette Goddard usually helped on nights like this, but Faye didn't feel like laughing.
Since her arrival she'd treated scores of young pilots and soldiers as well as locals—men, women, and children—some with severe burns, others riddled with bullets and shrapnel. She'd seen so much carnage, she simply regarded death as a byproduct of war. It was unavoidable and with it the feeling of being perpetually detached.
That's how you keep from going mad, Faye thought as she tried to focus on the movie. You simply can't let yourself care too much.
"There you are," Lois whispered as she took an empty seat next to Faye and offered to share her popcorn, which was slightly burned from being cooked in a small coal-fired cannon that local street vendors used.
Faye politely declined. "How's the new pilot doing?"
"Hard to tell," Lois whispered. "Doc says he might be out for a day or two. Or he could come around as soon as the anesthesia wears off. Who knows?"
"Who's reading to him tonight?" As the senior nurse on staff, Faye encouraged the younger caregivers to read to the men in recovery. She believed that bedridden pilots needed the type of escape that could be found only in the latest novels by F. Scott Fitzgerald, Ernest Hemingway, or Agatha Christie that were occasionally included in Red Cross care packages. But Faye also added Chinese novels like The Family by Ba Jin for injured locals, as well as American classics by Charles Dickens and books of poetry, in translation—whatever she could find.
"No one," Lois said, blinking. "He's sound asleep."
"We read to them anyway."
"Why?" Lois asked.
"Because it's comforting. Sometimes the men have nightmares, and if they stir, I don't want them waking up alone in such an unfamiliar place."
"But… it's movie night," Lois argued as she shoved a fistful of popcorn into her mouth, talking as she chewed. "Nurses need care too, you know. We don't even know if he's going to make it."
That's precisely why we do it, Faye thought as she stood up and walked out. Her silhouette graced the movie screen like a ghost with an hourglass figure, much to the delight of the men, who whistled and catcalled. Faye left Lois to be the object of their attention and walked back to the monastery that had been converted into a field hospital, when the one in the center of Kunming ran out of room. She found her way to the sanctuary, now crammed with twenty beds, occupied by a mix of Chinese officers, Americans, and civilians. She saw a handful of American nurses sitting bedside, quietly reading to their patients. Some read novels, some read comic books, while others read old newspapers from the United States with articles about scrap metal drives, the Yankees losing the World Series, and a movie called Casablanca.
Faye stopped at a vestibule that she had converted to a small library and pulled out a thick, leather-bound volume of poetry. She found John Garland unconscious, propped up slightly, the covers pulled across his chest, arms exposed. An IV bottle dangled from a tall wooden post, dripping fluids into a long rubber tube.
Faye sat down next to him. "You don't mind a little Edgar Allan Poe, do you?" She waited for a response and then said, "No? Okay, then we are in agreement, John Garland. Just make yourself comfortable. I'm Faye. We met out there on the runway, and as your nurse I must advise you that smoking is very bad for your health."
Faye was accustomed to the swagger of the cocksure American pilots, young and so eager to prove themselves. The braggadocio required to land that damaged plane, to walk away from the wreckage, bleeding. At twice the age of most of the pilots, she generally regarded the men as mischievous little brothers. Her feelings for them were always a mixture of admiration and annoyance. But there was something different about this one, a familiar feeling, like Ci cang soeng sik—waking from a dream—though the Chinese version of déjà vu generally referred to two people who have met before.
As she opened the book, Faye thought she saw his eyes flutter.
She stared at the unconscious pilot, wondering if his movement was a figment of her imagination. She touched his cheek, the cleft of his chin, his chest, his arm. Then she opened the book in her lap, flipping through the pages, adjusting to the language. She began with "Eldorado," the tale of a gallant knight. She looked over at John Garland then moved on to "Spectacles," a comedy about love at first sight. Then she settled on "A Dream Within a Dream," a poem about the passage of time.
She read each page carefully, pausing, wondering, letting the words fill the air.
Lastly, she read the classic "Annabel Lee."
She held his hand as she read the poem of love and loss and a kingdom by the sea. She looked over at him, speaking the words from memory, first in Chinese and then in English. "But we loved with a love that was more than love…"
His hand squeezed hers, so tight she thought her fingers might break. Her pulse raced as his body jerked, racked with violent seizures that shook the army bed and brought the IV bottle crashing to the floor, shards of glass fanning out like rice thrown at a wedding. She watched his lips turn purple, then all color drained from his face and she knew he'd stopped breathing. Faye shouted for a doctor and tore her hands away from his grip. She tried to hold him down, keeping the spasms from ripping open his sutures, but she felt spreading warmth across his torso and knew that he was bleeding out. Another nurse hurried over to assist by holding his legs, keeping them from thrashing about while an orderly ran for help. Patients who were awake began shouting, screaming. As Faye applied pressure to the wound, she heard herself pleading, "Don't you do this, John Garland. Don't you dare leave." Then she loosened her grip as his whole body relaxed. As a long gurgling breath escaped his lips, his body seemed to deflate. His eyes opened, staring up at Faye, stormy pools of blue and gray.
An hour later, Faye took it upon herself to make the bed where the American had died in her arms. She changed the sheets and tucked in a freshly laundered wool blanket that smelled of lye. The broken glass had been swept, the old book returned to its place on a shelf. The only evidence of his death was the lingering redness beneath her eyes from when she'd walked outside, sat on the stone steps, and broken down sobbing. Now she wondered why she cared so much and what she might have done differently.
"I'm still going to recommend you for that citation," Dr. Gentry said when he left the hospital and found her there. "Believe me, you earned it."
Faye didn't feel like she'd done anything special. She'd saved him only to watch him die hours later. Hardly an act that was medal-worthy. Why am I even here? She rubbed her forehead. I should be back in Canton looking for my parents.
When she walked back inside, Lois found her and offered a small cigar box. "I gathered up what little he had, his ID, a few personal effects."
Faye nodded solemnly and took the container with both hands.
Lois opened her mouth as though she were about to say something, then fell silent. She gave Faye a long hug and then left her alone.
Sitting on the nearest empty bed, Faye sighed and lifted the lid. She gently touched John Garland's dog tags. Then she sorted through a few notes, a faded flight map, a New York subway token, a silver pocket watch, a blue flight pin with a gold bar, a half-empty pack of Camel cigarettes, and his lighter. There was also an old leather wallet. Faye hesitated. The pilot didn't have a wedding ring, but still, she expected to find a photo-booth snapshot of a stateside sweetheart, some Rita Hayworth–esque girl, all curves and dimples. Instead, she found well-worn photos of smiling siblings and grim-faced parents.
She took his pocket watch, which was old and tarnished, and held the heavy timepiece to her ear. The clockworks were silent. Idle. Dead. As she wound the stem, she felt tension and the spring-hinged cover popped open.
Faye dropped the box.
The room fell silent to her ears, all but the hum of a generator.
Inside the watch was a photo clipped from a newspaper.
The photo was of her, but she looked much younger, almost a teenager. She had no idea where or when the photo was taken. She'd never seen it before.
Faye felt light-headed; she turned the paper over.
Written on the back, in her handwriting, were the words FIND ME.