About the Book
About the Book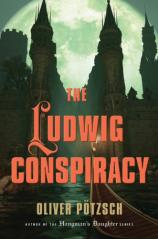 In 1886, Ludwig II, the fairytale king of Bavaria, was deposed after being declared insane by doctors who had never met him. He died mysteriously soon thereafter, his eccentric and beautiful castles his only legacy.
When an encoded diary by one of Ludwig's confidants falls into the hands of rare book dealer Steven Lukas, he soon realizes that the diary may bring him more misery than money. Others want the diary as well --- and they will kill to get it. Believing the diary to contain the secret truth behind Ludwig's death, Steven and the detective Sara Lengfeld go on the run, investigating each of Ludwig's three famous castles for clues. Just what in the diary could be so explosive that Ludwig's deranged modern-day followers will do whatever it takes to keep it hidden?
Combining contemporary mystery and a gripping historical saga, putting computers and smartphones alongside derringers and palace intrigue, THE LUDWIG CONSPIRACY is a bold new thriller from the bestselling author of The Hangman's Daughter series.