About the Book
About the Book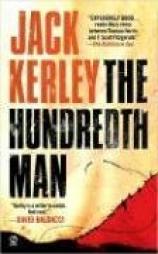 Recalling Michael Connelly's taut storytelling and James
Patterson's searing narrative twists, THE HUNDREDTH MAN introduces
a daring new talent. From its explosive first pages to its
startling conclusion, this novel creates a world where heroes can't
succeed without madmen, and the dead are the most dangerous of
all.
When bizarre and cryptic messages are found on a pair of corpses in
Mobile, Alabama, junior police detective Carson Ryder and veteran
cop Harry Nautilus find themselves in a mysterious public-relations
quagmire pitting public safety against office politics. With the
body count growing, Ryder must confront his family's terrifying
past by seeking advice from his brother, a violent psychopath
convicted of similarly heinous crimes. Ryder finds himself falling
for Ava, the striking pathologist processing the gruesome corpses.
But Ava's past holds its own nightmarish secrets.
Chasing false leads while their boss relentlessly undermines all
progress, Ryder and Nautilus come to realize someone close to them
is the killer's ultimate target.
Thundering to a stark and chilling revelation, THE HUNDREDTH MAN
marks the arrival of an author who raises the stakes on every
page.
© Copyright 2005 by Signet Book, an imprint of Penguin Group
(USA) Inc.