Excerpt
Excerpt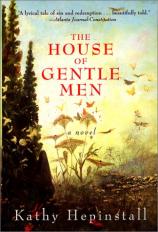 From the beginning, the child growing inside her seemed aware of the need for secrecy. It took her monthly flow quietly, swelled her fingers quietly, introduced quietly a craving for mayhaw jelly and Karo syrup straight from the bottle. And the girl- Charlotte-told no one, and no one suspected. For in that fall of 1941, the people of the town could not look at her and see a growing baby. They saw only Charlotte's mother, ambushed by sudden and merciless flames.
The outrageousness of Charlotte's condition furnished more protection. How could a barely kissed Baptist girlnewly sixteen-have conceived anything two weeks after her mother was killed? For in the grief that follows horror there is no room for any Events, only the slow opening of doors and pickle jars, the refusal of a pet to leave the site of a grave, the sudden tears called forward by the sound of Bible passages and the faint aroma of bacon in the black-eyed peas. Tragedy cannot follow so closely on the heels of Tragedy; the Bundt cakes the neighbors bring over must first have time to cool.
Her father and her little brother Milo knew nothing about monthly blood and its co morning sickness. Like men, they were busy basking in their sorrows. In the comer of the backyard, not far from the edge of the woods, Milo built a shrine to his mother: loose buttons he'd found in her drawer, her garden gloves, a set of silver teaspoons, her lavender hand cream and the laces of her Sunday shoes. He worked on it every morning before school, adding little trinkets, straightening the border of magnolia leaves, mumbling to himself, while Charlotte held her long black hair away from her face and threw up in the pink impatiens.
"Are you sick?" Milo asked.
She shook her head.
"Charlotte, don't be sick. You can it die."
Charlotte had stopped speaking on the day the soldiers had held her down, and so she went inside the house for her tablet and wrote: I'M NOT GOING TO DIE.
"You better not," said Milo when he read her message.
No, she thought, she was not the one whose death was deserved.
She had heard of treatments. Folklore. Things other girls had tried. She found a bottle of apple cider vinegar in the cabinet and drank as much as she could, tears running from her eyes at the taste of it.
It didn't matter. Deep in her womb, that trembling inch continued to flourish.
Salt had worked for a girl in Baton Rouge. So Charlotte had heard one night at a slumber party, years before, when the girls were gathered in her friend Belinda's room. One Saturday morning Charlotte poured a large handful of salt into a glass and forced herself to swallow all of it. She sat on the back porch afterward, looking into the woods.
By noon her head was swimming, and she was seized by a ravenous thirst. Belinda was having a garden party at one o'clock, despite the chill in the air. She had advised Charlotte to attend. "All the girls are turning against you, Charlotte," she had whispered urgently. "They understand about your mother, but they think you're being stupid. You won't say a word and you don't want visitors." Belinda was Charlotte's best friend, but enough of an enemy that Charlotte could not confide in her. And so Charlotte drank three glasses of water and went to the party. The girls were sitting outside on filigreed lawn furniture, sipping strawberry punch. Belinda greeted her in a wool dress, her eyes red. She had been grieving ever since her boyfriend, Richard Stanley, had been called to an air base in Virginia in preparation for the new war.
"My soldier of the sky," she whispered. "Sometimes I wish I'd never fallen in love with him. What if he's killed?"
"Don't think like that, Belinda," the other girls said soothingly. Charlotte started to write something on her tablet, then thought better of it. Instead she drank another glass of punch. And another.
Belinda was telling the story of how she'd met her perfect boyfriend, although everyone had heard it before. She was standing in a green field, in a dress once worn by her grandmother . . .
Charlotte drank another glass.
And the sky was so blue . . .
Charlotte drank another glass. Her head was filled with patterned light. Her breath fast. Thirst like a seizure.
And his plane came out o the clouds as if in a dream . . . of
Charlotte leaped to her feet and staggered behind the house. She was drinking from the hose when Belinda found her.
"Charlotte," she said severely, "what are you doing? Why did you interrupt my story?"
Charlotte didn't answer.
"Listen to me. None of the girls really likes you anymore. You won't talk. You do strange things. And now you're drinking from the hose like a dog. I'm sorry about your mother, Charlotte, but there are other people suffering too. My boyfriend's gone. And he may not come back.
--From The House of Gentle Men, by Kathy Hepinstall. © February 2000 , Bard Books used by permission.