About the Book
About the Book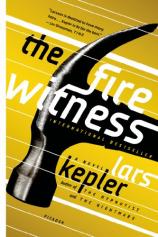 Flora Hansen calls herself a medium and makes a living by pretending to commune with the dead. But after a gruesome murder at a rural home for wayward girls, Hansen begins to suffer visions that are all too real. She calls the police, claiming to have seen a ghost, but only one detective puts aside his skepticism long enough to listen: Joona Linna.
Linna has spent more time at the scene of the crime than any other detective would. The case seems obvious on the face of it: One of the girls at the home escaped in the middle of the night, leaving behind a bloody bed with a hammer under the pillow. But why does Hansen insist that the murder instrument was a stone, not a hammer? And what's the story behind the dark red grain of sand, almost like a splinter from a ruby, stuck beneath the dead girl's fingernail? As Linna refuses to accept easy answers, his search leads him into darker, more violent territory, and finally to a shocking confrontation with a figure from his past.
As the newspaper Dagens Nyheter put it, you start the thriller "on the subway home, keep reading at the dinner table, and then don't stop until well into the wee hours." Kepler writes with the force of Stieg Larsson and the plotting of Jo Nesbø. THE FIRE WITNESS is an unflinching page-turner, sure to become an international sensation.