About the Book
About the Book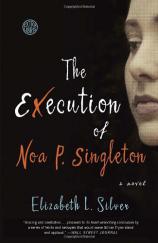 An unforgettable and unpredictable debut novel of guilt, punishment, and the stories we tell ourselves to survive

Noa P. Singleton never spoke a word in her own defense throughout a brief trial that ended with a jury finding her guilty of first-degree murder. Ten years later, having accepted her fate, she sits on death row in a maximum-security penitentiary, just six months away from her execution date.
Meanwhile, Marlene Dixon is a high-powered Philadelphia attorney who is also the mother of the woman Noa was imprisoned for killing. She claims to have changed her mind about the death penalty and will do everything in her considerable power to convince the governor to commute Noa's sentence to life in prison, in return for the one thing Noa can trade: her story.
Marlene desperately wants to understand the events that led to her daughter's death --- events that only Noa knows of and has never shared. Inextricably linked by murder but with very different goals, Noa and Marlene wrestle with the sentences life itself can impose while they confront the best and worst of what makes us human.