About the Book
About the Book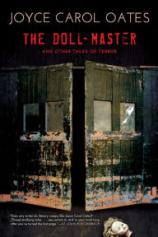 Bold and haunting, THE DOLL-MASTER AND OTHER TALES is a collection of six psychologically daring stories from Joyce Carol Oates.
In the title story, a boy becomes obsessed with his cousin's doll after she tragically passes away, and as he grows older, he begins to collect "found dolls" from surrounding neighborhoods. But just what kind of dolls are they? In "Gun Accident," a teenage girl is delighted to house-sit for her favorite teacher, until an intruder forces his way inside the old Colonial --- changing more than one life forever.
THE DOLL-MASTER closes with a taut bibliomystery, about the owner of a middling chain of mystery bookstores whose plan to take over a rare bookshop in scenic New Hampshire derails into a game of verbal cat-and-mouse that threatens to have real-life consequences. Throughout the collection, Oates evokes "the fascination of the abomination" that is at the core of the most profound, the most unsettling and the most memorable of dark mystery fiction.
The Doll-Master and Other Tales of Terror
by Joyce Carol Oates
Publication Date: June 13, 2017
Genres: Fiction, Horror, Short Stories
Paperback: 336 pages
Publisher: Mysterious Press
ISBN-10: 0802126715
ISBN-13: 9780802126719