About the Book
About the Book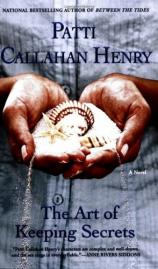 Growing up a minister's daughter, Patti Callahan Henry learned early how storytelling can affect lives. As a child she spent her summers on Cape Cod where she began her love affair with the ocean. She then moved south at the tender age of twelve and found solace in books and stories. Patti weaves all of these elements together in her imaginative work, earning a coveted place among such literary favorites as Anne Rivers Siddons, Cassandra King, and Mary Alice Monroe.
This June, the national bestselling author of When Light Breaks and Between the Tides returns with The Art of Keeping Secrets, a poignant novel set in the Lowcountry of South Carolina. It's there, amidst the sand and shells, where a tragedy unites two women --- and forces them to face the dark secrets of their past.
Two years after her husband is killed in a solo plane crash, Annabelle Murphy takes comfort in raising her children and spending time with close friends. And just when she thinks she has gotten past the worst of the grieving process, Annabelle receives startling news. The wreckage of her husband's plane has been found, and Annabelle learns that her husband wasn't alone. A woman was in the plane with him when it crashed. A shocked Annabelle suffers a crisis of faith and determines to find out who the mystery woman was.
Sofie Milstead knows who the woman that was on the plane. A young dolphin researcher in a sleepy coastal town, Sofie leads a solitary life, never revealing to anyone who she really is. When Annabelle arrives on Sofie's doorstep --- full of questions and a reminder of the life that Sofie left behind --- the younger woman is forced to face down her demons and let down her guard. As the two women confront their complicated pasts, they discover the undeniable power of love and the unstoppable march of life.
The Art Of Keeping Secrets
by Patti Callahan Henry
Publication Date: June 3, 2008
Genres: Fiction
Paperback: 384 pages
Publisher: NAL Trade
ISBN-10: 0451223950
ISBN-13: 9780451223951