About the Book
About the Book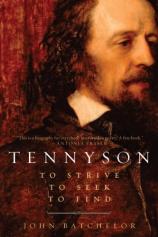 In what will be the definitive biography of Alfred Lord Tennyson, an enthralling new study of the major poet of the Victorian era.
Alfred Lord Tennyson, Queen Victoria's favorite poet, commanded a wider readership than any other of his time. His ascendancy was neither the triumph of pure genius nor an accident of history: he skillfully crafted his own career and his relationships with his audience. Fame and recognition came, lavishly and in abundance, but the hunger for more never left him. Resolving never to be anything except "a poet," he wore his hair long, smoked incessantly, and sported a cloak and wide-brimmed Spanish hat.
The poet who wrote "The Lady of Shalott" and "The Charge of the Light Brigade" has become a permanent part of our culture, and this thoughtful new biography reveals him to be a fascinating paradigm of both the Romantic and Victorian ideals.