About the Book
About the Book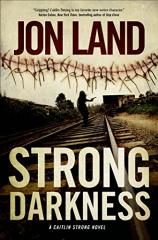 Texas Ranger Caitlin Strong returns in her most thrilling adventure yet in Jon Land's STRONG DARKNESS.
1883: Texas Ranger William Ray Strong teams up with Judge Roy Bean to track down the Old West's first serial killer, who's stitching a trail of death along the railroad lines slicing their way through Texas.
The Present: Texas Ranger Caitlin Strong finds herself pursuing another serial killer whose methods are eerily similar to the one pursued by her great-grandfather almost a century-and-a-half before.
But that's just the beginning of her problems. The son of her boyfriend is nearly beaten to death at Brown University. The investigation leads back to Texas and to the Chinese high-tech company awarded the contract to build the US's 5G network. Li Zhen, the company's founder, counts that as the greatest achievement of his career, but it hides his true motivations --- nothing less than China's total domination of the United States.
His plan is backed by elements of the Chinese underworld. Up against an army at Li's disposal, Caitlin blazes a violent trail across country and continent in search of secrets hidden in the past, but it's a secret from the present that holds the key. Darkness is coming, and only Caitlin Strong can find the light before it's too late.