About the Book
About the Book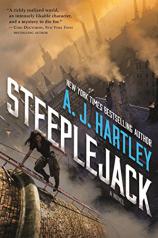 Seventeen-year-old Anglet Sutonga, Ang for short, repairs the chimneys, towers, and spires of Bar-Selehm, the ethnically-diverse industrial capital of a land resembling Victorian South Africa. The city was built on the trade of luxorite, a priceless glowing mineral. When the Beacon, a historical icon made of luxorite, is stolen, it makes the headlines. But no one cares about the murder of Ang's new apprentice, Berrit --- except for Josiah Willinghouse, an enigmatic young politician, who offers Ang a job investigating Berrit's death. On top of this, Ang struggles with the responsibility of caring for her sister's newborn child.
As political secrets unfold and racial tensions surrounding the Beacon's theft rise, Ang navigates the constricting traditions of her people, the murderous intentions of her former boss, and the conflicting impulses of a fledgling romance. With no one to help her except a savvy newspaper girl and a kindhearted herder from the savannah, Ang must resolve the mysterious link between Berrit and the missing Beacon before the city is plunged into chaos.
A fresh take on historical fantasy attune to today's demand for multicultural YA, STEEPLEJACK will resonate with readers of all ages.