About the Book
About the Book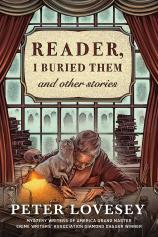 Mystery Writers of America Grand Master Peter Lovesey presents a collection of short fiction spanning 50 years, including the first story he ever published and three brand-new stories.
More than 50 years ago, Peter Lovesey published a short story in an anthology. That short story caught the eye of the great Ruth Rendell, whose praise ignited Lovesey's lifelong passion for short form crime fiction.
On the occasion of his 100th short story, Peter Lovesey has assembled this devilishly clever collection, 18 yarns of mystery, melancholy, and mischief, inhabiting such deadly settings as a theater, a monastery and the book publishing industry.
The collection includes that first story that launched his story-writing career, as well as three exclusive new stories. In addition, Lovesey fans will delight in a personal essay by the author about the historical inspirations --- and in an appearance by the irascible Bath detective Peter Diamond, who has, in the author's words, "bulldozed his way" into this volume.
Audiobook available; read by Ben Onwukwe, Laurel Lefkow, Robert G. Slade and Penelope Freeman
Reader, I Buried Them & Other Stories
by Peter Lovesey
Publication Date: January 10, 2023
Genres: Fiction, Mystery, Short Stories
Paperback: 384 pages
Publisher: Soho Crime
ISBN-10: 1641294086
ISBN-13: 9781641294089