About the Book
About the Book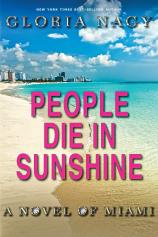 New York Times bestselling author Gloria Nagy sliced through the social fabric of the North Shore of Long Island in A HOUSE IN THE HAMPTONS, and now she aims her razor sharp talents on Miami --- the new hot spot for glamour, greed and gore.
The Sunshine State will need a far higher level of SPF!
PEOPLE DIE IN SUNSHINE is a carnival ride through the externally glamorous but internally twisted lives of two people, Frederick and Coco Rothenstein, and their world --- one most of us only know about from reading true-crime stories and news accounts of the lives of the super-rich and entitled dwellers in the bastions of wealth and privilege where families such as the Rothensteins reign. The first four words of Gloria Nagy's scorching, ironic tale of greed, glamour, envy, avarice and the Janus-headed coin of love and hate are: "Money. Money. Money. Money." What Ms. Nagy accomplishes in a work of humor, heartbreak, murder and redemption reinforces those four words. A theme reflecting the world we have created that rises and falls with the same quite simple motivation that has driven every facet of human life since man stood upright. It is not the world we want to see, but it is the real world. And where better to set a novel that is as much a social chronicle of our times as it is a gripping tale of the maze like search for a killer than in Miami?
The Miami of the 21st century is a glittering city in the sun that has become a symbol of the new American Dream --- retirement ease, new beginnings, or a haven for sketchy characters with dubious histories and too much money to spend. In a large cast of characters diverse in ethnicity, wealth, morality and status, Ms. Nagy shines her own unique sunlight on a cross section of this city of multi-cultural strivers and survivors, finding humanity in even the most flawed inhabitants of her singular human circus. This is a robust and tightly constructed romp through her slice of the sludge beneath the shimmering sand, and, as in all of her work, she sees and she sears.
People Die in Sunshine: A Novel of Miami
by Gloria Nagy