About the Book
About the Book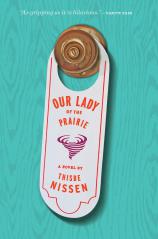 For Phillipa Maakestad --- theater professor and mother to a troubled, volatile daughter --- life is finally, miraculously calm. What better moment, then, to fall headlong into a passionate affair, fly off to France with her new lover, and effectively take a match to her life on the Iowa prairie?
As she steps back to survey the damage and determine her way forward, Phillipa must contend with a wedding-day tornado, a menace of a mother-in-law who may or may not have been a Nazi collaborator, and the tragicomic revenge fantasies of her otherwise docile husband. Which is to say: the damage is not easily contained, and the path ahead is not clear.
Thisbe Nissen offers up a fever-pitched, bitingly funny novel about a woman's quest to find her place in her own story. OUR LADY OF THE PRAIRIE is a bravura performance --- a twister sweeping through the heart of the land and the land of the heart.
Audiobook available, read by Hillary Huber
Our Lady of the Prairie
by Thisbe Nissen
Publication Date: January 22, 2019
Genres: Fiction
Paperback: 384 pages
Publisher: Mariner Books
ISBN-10: 132850798X
ISBN-13: 9781328507983