About the Book
About the Book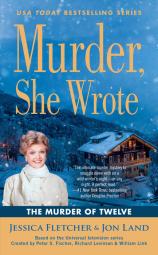 In the latest entry in this USA Today bestselling series, Jessica Fletcher takes on an Agatha Christie-style mystery when she finds herself stranded in a hotel during a blizzard with 12 strangers and a killer in their midst.
Still staying at the Hill House hotel while her beloved home is being rebuilt, Jessica Fletcher finds herself sharing the space for a weekend with a dozen members of a wedding party who have gathered there for a rehearsal dinner. The families of the bride and groom can't stand each other but have agreed to put aside years of long-simmering tension to celebrate the nuptials.
Unfortunately, weather forecasters underestimated the severity of a storm that turns into a historic blizzard that dumps nearly five feet of snow on Cabot Cove, leaving everyone stranded.
But the hotel guests have bigger things to worry about than bad weather conditions and potential cold feet, because a murderer has shown up ininvited --- one who has vowed to take them down one by one.
Audiobook available, read by Laural Merlington