Excerpt
Excerpt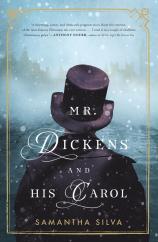 1
On that unseasonably warm November day at One Devonshire Terrace, Christmas was not in his head at all.
His cravat was loose, top button of his waistcoat undone, study windows flung open as far as they'd go. Chestnut curls bobbed over his dark slate eyes that brightened to each word he wrote: this one, no, that one, scribble and scratch, a raised brow, a tucked chin, a guffaw. Every expression was at the ready, every limb engaged in the urgent deed. Nothing else existed. Not hunger or thirst, not the thrumming of the household above and below—a wife about to give birth, five children already, four servants, two Newfoundlands, a Pomeranian, and the Master's Cat, now pawing at his quill. Not time, neither past nor future, just the clear-eyed now, and words spilling out of him faster than he could think them.
The exhilaration of his night walk had led him straight to his writing chair by first morning without even his haddock and toast. He'd traversed twice the city in half his usual time, from Clerkenwell down Cheapside, across the Thames by way of Blackfriar's Bridge, and back by Waterloo, propelled by a singular vision—the throng of devoted readers that very afternoon pressing their noses against the window of Mudie's Booksellers, no doubt awaiting the new Chuzzlewit installment, with its flimsy green cover, thirty-three pages of letterpress, two illustrations, various advertisements, and the latest chapter of pure delight by the "Inimitable Boz" himself! Why, it was plain to him that humanity's chief concern, now that Martin Chuzzlewit had sailed for America, was the fate of Tom Pinch and the Pecksniffs, and he considered it his sacred duty to tell them.
And so Charles Dickens didn't hear the slap-bang of the door knocker downstairs that would alter the course of all his Christmases to come.
Like any man, he'd known a good share of knocks in his thirty-some years. Hard knocks at lesser doors, insistent rap-rap-raps on wind-bitten, rain-battered doors whose nails had lost all hope of holding. And with fame came gentler taps at better doors, pompous, pillared, and crowned thresholds in glazed indigo paint, like his own door two floors below, where the now-polite pounding was having no effect at all.
Because there are times in a man's life when no knock on any door will divert him from the thing at hand, in particular when that thing is a goose-feather pen flying across the page, spitting ink.
Copyright © 2017 by Samantha Silva