About the Book
About the Book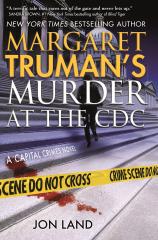 Murder and intrigue on the steps of the United States capital building pulls Robert Brixton into his most personal case yet.
2017: A military transport on a secret run to dispose of its deadly contents vanishes without a trace.
The present: A mass shooting on the steps of the Capitol nearly claims the life of Robert Brixton's grandson.
No stranger to high-stakes investigations, Brixton embarks on a trail to uncover the motive behind the shooting. On the way he finds himself probing the attempted murder of the daughter his best friend, who works at the Washington offices of the CDC.
The connection between the mass shooting and Alexandra's poisoning lies in that long-lost military transport that has been recovered by forces determined to change America forever. Those forces are led by radical separatist leader Deacon Frank Wilhyte, whose goal is nothing short of bringing on a second Civil War.
Brixton joins forces with Kelly Loftus, a former Baltimore homicide detective. She has her own reasons for wanting to find the truth behind the shooting on the Capitol steps, and is the only person with the direct knowledge Brixton needs. But chasing the truth places them in the crosshairs of both Wilhyte's legions and his Washington enablers.
Audiobook available, read by Christine Kiphart