About the Book
About the Book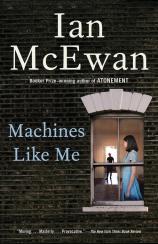 From Ian McEwan, Booker Prize winner and international bestselling author of ATONEMENT and THE CHILDREN ACT
Set in an uncanny alternative 1982 London --- where Britain has lost the Falklands War, Margaret Thatcher battles Tony Benn for power, and Alan Turing achieves a breakthrough in artificial intelligence --- MACHINES LIKE ME powerfully portrays two lovers who will be tested beyond their understanding.
Charlie, drifting through life and dodging full-time employment, is in love with Miranda, a bright student who lives with a terrible secret. When Charlie comes into money, he buys Adam, one of the first generation of synthetic humans. With Miranda's assistance, he codesigns Adam's personality. The near-perfect human that emerges is beautiful, strong and smart --- and a love triangle soon forms.
Ian McEwan's subversive, gripping novel poses fundamental questions: What makes us human --- our outward deeds or our inner lives? Could a machine understand the human heart? This provocative and thrilling tale warns against the power to invent things beyond our control.
Audiobook available, read by Steven Crossley
Machines Like Me
by Ian McEwan
Publication Date: March 3, 2020
Genres: Fiction
Paperback: 352 pages
Publisher: Anchor
ISBN-10: 0525567038
ISBN-13: 9780525567035