About the Book
About the Book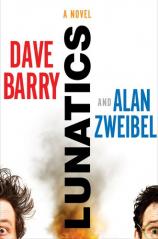 One of them is a bestselling Pulitzer Prize-winning humorist. The other is a winner of the Thurber Prize for American Humor. Together, they form the League of Comic Justice, battling evildoers in the name of... Okay, we made that line up. What they do form is a writing team of pure comic genius, and they will have you laughing like idiots.
Philip Horkman is a happy man --- the owner of a pet store called The Wine Shop, and on Sundays a referee for kids' soccer. Jeffrey Peckerman is the sole sane person in a world filled with goddamned jerks and morons, and he's having a really bad day. The two of them are about to collide in a swiftly escalating series of events that will send them running for their lives, pursued by the police, soldiers, terrorists, subversives, bears, and a man dressed as Chuck E. Cheese.
Where that all takes them you can't begin to guess, but the literary journey there is a masterpiece of inspiration and mayhem. But what else would you expect from the League of Comic Justice?
Lunatics
by Dave Barry and Alan Zweibel
Publication Date: January 10, 2012
Genres: Fiction
Hardcover: 320 pages
Publisher: Putnam Adult
ISBN-10: 0399158693
ISBN-13: 9780399158698